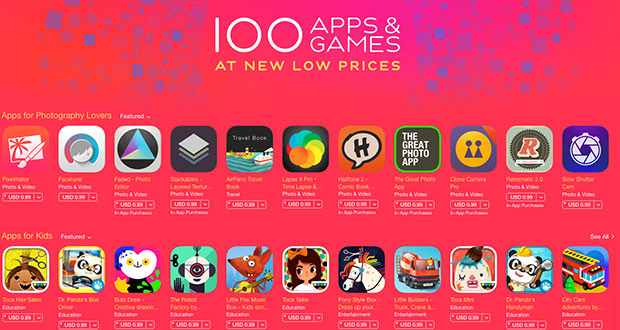 100 applications for iPhone and iPad in temporary offer on the App Store
Apple has launched a new promotion on the App Store, with which they are granted 100 applications between games and applications of all types.
Apple has organized a promotion of great extent on the App Store, serving to $ 0.99 a total of 100 applications, including games and utility of various categories. There are apps for " lovers of photography, " Children, useful tools to accomplish specific tasks, but also stocks that have previously received some success. The list of 100 apps offered on the App Store can be found on this page, which is open to the mobile device.
Among the most interesting app offers to $ 0.99 include for example: Pixelmator, an image editor, Facetune, eliminating imperfections in the faces of subjects in pictures and Retromatic 2.0, to give a vintage feel to your shots. Offerings are also useful applications to perform various tasks, such as Scanner Pro 6, to scan your documents, and GoodReader, to view their PDF documents. There are plenty of games, and here the choice is really interesting.
We find a lot of popular titles, as BADLAND, Shadowmatic, LIMBO, EPOCH.2, Fruit Ninja, Rayman Jungle Run, Real Racing 2 and various chapters of Angry Birds and Cut the Rope. And there's Goat Simulator. All titles listed are offered at the same price of $ 0.99. Promotions on Apple App Store usually last a full week, and it is likely that in the specific terms this next Thursday.
At the same time, Apple celebrated the twenty-fifth anniversary of the birth of the Americans with Disabilities Act, emphasizing the application specifically designed for people with various disabilities.