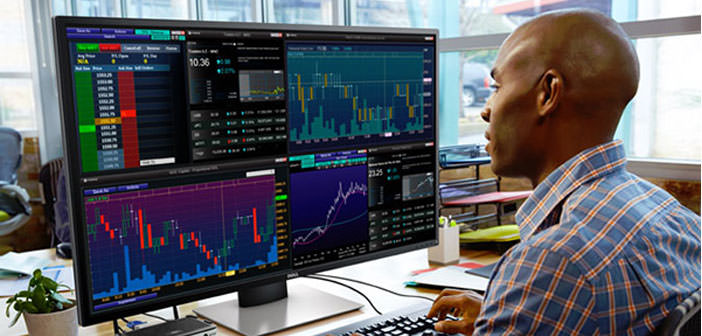 Dell P4317Q: 4K 43-inch monitor for unbridled multi-tasking
Dell has announced the launch of a new 4K monitor 43″ for professional use. The dream for those who work with many displays, even if it comes at a high price.
Dell 43 Multi-Client Monitor, also known as P4317Q is a monitor with a 43-inch diagonal panel in 4K resolution (3,840 x 2,160 @ 60Hz via DisplayPort). It is designed to increase productivity by allowing a professional user to use a monitor with four inputs instead of four separate monitors. In this way, the various views will not be interspersed with frames or disruptions of various kinds, and the workflow will be more fluid according to Dell.
The built-in the enormous 43″ LCD monitor panel it boasts IPS technology, and is LED backlit. The technical specifications shall also speak of a contrast ratio of 1000:1, a maximum brightness of 350cd/m² and viewing angles of to 178° both horizontally and vertically. The professional destination and certainly not play, is emphasized by a very high response time, equal to 8ms on the basis of technical data released by the company.
In terms of connectivity options, the Multi-Client Monitor offers a DisplayPort 1.2 port and a Mini DisplayPort 1.2, two HDMI 1.4 and also a VGA for connecting to older systems. No shortage 4 USB 3.0 ports, one of which can charge external devices, headphone and microphone, an RS232 serial port and dual stereo speakers 8W. The monitor is also compatible with the VESA media type for hanging on the wall, natural given the size.
The distinctive feature of Dell P4317Q is the support to the multi-client, or the possibility of subdividing the display into two or four screens from different sources through the Enhanced Dell Display Manager.
The support on which rests the monitor is non-rotatable, but can be inclined forwards by 5° and backward by 10°. The device also has a system for cable management, which is essential given the many offers connectivity options.
Dell P4317Q is a dream for the professional who works with multi-screen systems, but how each product addressed to the professional reality is not cheap: it costs $1,350.
No products found.