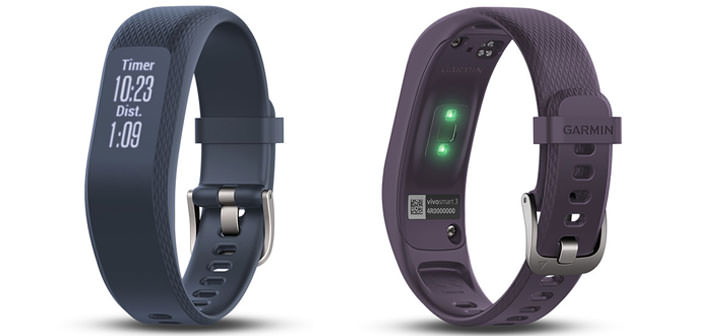 Garmin introduces Vivosmart 3 : Bracelet fitness with integrated HR
With the third evolution of the Vivosmart family, Garmin makes the best use of the integrated heart rate sensor to provide more metrics to the user's health.
Garmin announced Vivosmart 3, its new fitness bracelet with built-in optical heartbeat sensor in the back despite the very small overall size. This product comes from the Vivosmart HR model announced by Garmin last year, reducing its size and introducing some new technical features.
Of particular interest is the 24-hour, 7-day 7 heart-rate monitor with a measurement that takes place every few seconds irrespective of the type of activity being performed at a given time. Garmin also provides guidelines for the VO2Max detected for the user, along with a fitness indicator. Another interesting indication is that of state stress, useful in identifying the presence of a particular state of stress linked, of course, to heartbeat monitoring.
The screen is equipped with an automatic shutdown function: raising the arm automatically switches itself off, shutting down once the arm is brought along the body so as to reduce the impact on the battery operating autonomy.
With the Garmin Connect Mobile app, you can analyze the data and performance of your results, share them, and have tips to reach your goals and maintain the right motivation. Smart Notifications allow you to receive email, SMS, incoming calls and push notifications from your smartphone from your smartphone. You can also manage the sequence of your favorite tracks wirelessly. There is also a feature to ring the phone within a short distance and to command the Garmin virb cam action.
With Vivosmart 3, Garmin wanted to introduce state-of-the-art user state-of-the-art analysis features and fitness levels that are available in American sportwatch solutions and are also featured in a fitness bracelet for the first time. Water resistant, has a battery life of up to 5 days.
Garmin Vivosmart 3 – Specifications
Manufacturer : Garmin
Features : Notifications, date indicator, clock, alarm with inactivity, with music controls
Measured Values : Pedometer, odometer, calorie consumption, rising levels, heart rate
Values shown in the display : heart rate, counting steps, calorie consumption, estimated distance, climbed plans, notifications, task status
Synchronization : Bluetooth, ANT +
Screen Type : OLED
Monitoring sleepsleep : Duration
Screen resolution : 160 x 68 Pixels
Min. Strap : 136 mm
Band length : 187 mm
Strap width : 21 mm
Battery Type : Li-ion
Battery life : 5 Days
Water resistant up to : 50 m
Weight : 29.6 g
Messaging : Calls, e-mails, text messages, appointments
Control : With touchscreen, On / Off button
Alarm function : Alarm with vibrating
14%
Garmin Vivosmart 3, Black, S/M
The thinnest HR-equipped activity tracker from Garmin at 4mm thinner and more form...
While not in use, the discreet display disappears into the device so as not to...
Measures VO2 Max, which is widely recognized as an excellent measure of your aerobic...
Product prices and availability are subject to change. Any price and availablility information displayed on Amazon at the time of purchase will apply to the purchase of any products.