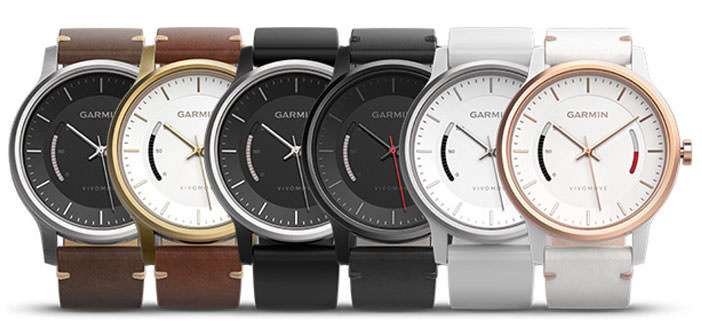 Garmin presents Vivomove: Elegant watch outside, inside activity tracker
Garmin broadens the range of wearable presenting Vivomove, an analog watch with elegant design, enriched with the typical features of the activity tracker.
Garmin broadens the already wide range of wearable by introducing a new model not because of the substance, and by its architecture. Vivomove appears as a traditional analog watch with hands, from refined and elegant design.
Only two LCD indicators in dial transparently reveal a soul that is to own an activity tracker: one manages the pedometer function. The other is the motivational bar. Following a growing trend among manufacturers of wearable devices, Garmin also chooses to decline the product more variants with different materials and straps.
Garmin Vivomove is equipped with an accelerometer that allows you to calculate the distance of your workouts indoors and can make the sleep monitoring (total sleep, periods of movement and sleep " restorative " ). The LCD indicator located on the left side indicates the number of steps taken, while the right bar represents the movement of which turns red after a period of inactivity and is reset by walking for a couple of minutes.
The new wearable Garmin is compatible with Garmin Connect app – available for major mobile platforms. – It allows you to analyze, categorize and share the data collected with the Garmin community.
The nature of the analog watch allows you to keep down battery consumption: Vivomove is powered by a common button cell battery (CR2025) can be replaced and offers up to a year of battery life.
To enrich the standard equipment intervenes water resistance up to 5 ATM. As anticipated at the beginning, Garmin Vivomove is available in three versions, each available in two colors (or color combinations). They differ in cash materials and straps: the premium version, the most expensive, it is equipped with stainless steel case and leather strap.