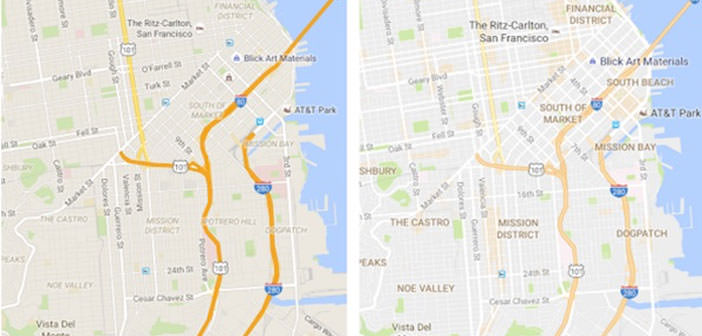 Google Maps is a makeover on Android, iOS and desktop
Google announces important news relating Maps, the mapping app Big G updated with several new features to the Android platform, iOS and Desktop.
The home of Mountain View has recently announced the introduction of several changes that affect the mapping app Google Maps: New mainly concentrated on the interface and the content of cartography affecting Google Maps on desktop and mobile app for Android and iOS.
The first change concerns documented graphical refinements. The maps were made clearer by eliminating items that can be considered absolutely essential. As a result, traffic information and transport are easier to see. Other elements, such as street names, points of interest, transportation stations have been enhanced to make them immediately identifiable.
The changes also identify specific " areas of interest " marked in orange. These are points of interest characterized by the presence of many activities and things to do. Zoom in on the point of interest allows you to display more information about the specific building.
Google clarifies the method to identify the " areas of interest " ; It is based on an algorithmic process that enables the identification of areas with the highest concentration of restaurants, bars and shops.
Last novelty group regards the renewal of the color scheme introduced in order to help distinguish between man-made and natural elements contained in the maps. This change allows us to identify with greater immediacy hospitals, schools, highways and other elements as evident in the statement below: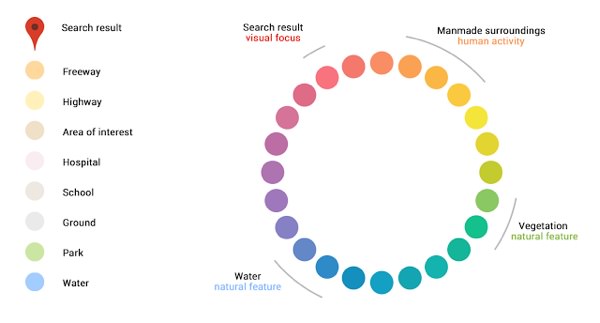 The innovations described above can be used either by accessing Google Maps via the desktop or by using the app for smartphone and tablet Android and iOS can be downloaded from the respective store ( here for Android and here for iOS).