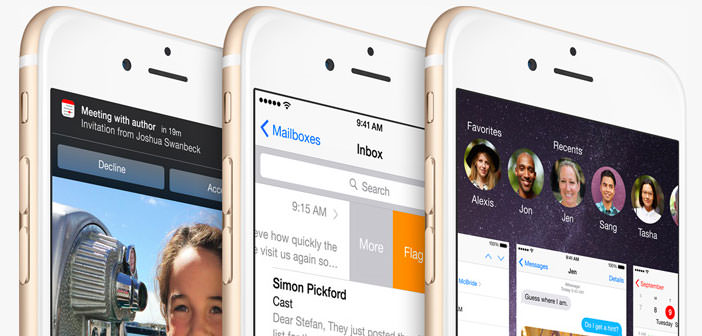 Launch of the public beta program on iOS: 9 versions provided only in summer
According to unconfirmed rumors, Apple could expand its program of public beta on iOS, after a successful launch of Yosemite. Apple will expand its program of public beta on iOS with the next version 8.3 that developers enrolled in the Dev Center can already put to the test. Apple exhumed the testing program audience with Yosemite, and its transposition also on the mobile platform seems a passage only natural and will happen in the coming months.
This at least according to 9ToMac the publication that has unveiled the news citing " multiple sources informed about the plans. " The program's goal is to eliminate as much as possible security bugs and stability on the platform before the public launch, using the feedback from a number of " beta tester " much more full-bodied and not just limited to professionals.
The testing program will be launched the public, as we wrote above, with iOS 8.3 and will also follow the arrival of iOS 9 version naturally more crucial that the Cupertino company will unveil probably in June at the annual WWDC. A higher number of testers will undoubtedly help to eliminate the vulnerabilities of the platform, but on iOS Apple wants to impose limitations.
They were attended by about 1 million users in public beta test of Yosemite, while Apple wants to restrict the ability to access the less stable versions of iOS only 100 thousand users. After reaching this threshold will be worth the rules used previously, where it was necessary to enable your UDID to participate in the closed beta of the preliminary versions of iOS, a procedure that could only make a developer.
You have to specify that even today the beta of iOS are tested in preview from a particularly large number of users who do not participate actively in the Dev Center. These are users who want to try right now the new versions coming soon and that often – but not always necessary – using illegal services for a fee to register your device and make it suitable for installation of the beta versions.
iOS 8.3 beta is already available to professionals along with iOS 8.2 beta 5, the first public version could come in mid-March with support for Wireless CarPlay, keyboard Emoji and updated for a new voice for Siri in English, all innovations that are already implemented in via embryonic version currently available for all iOS developers.