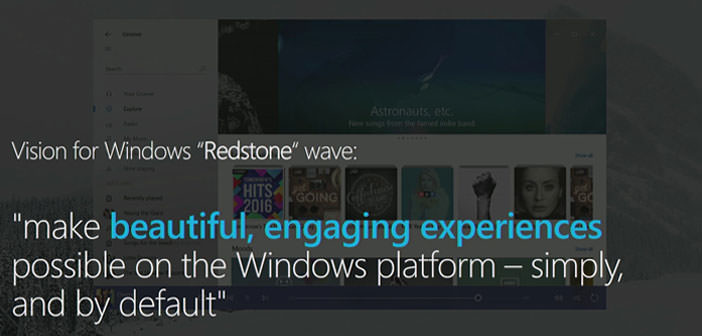 Microsoft confirms and gives a taste of NEON, the new interface of Windows 10
The company would have revealed the existence of NEON during a meeting with developers, providing a first image of the new design of Windows 10.
We already talked about Project NEON in January when we showed you some concept built on the words of Microsoft, but to talk about now is the same Microsoft. NEON is the internal name by which the company is setting new stylistic path of Windows 10 that will be enabled with Redstone 3, not expected to debut before the year's end. According to Windows Central, the company would have revealed in recent hours an example of the UI during a meeting with developers.
The company showed a darkened window and dominated by the description " make possible experiences beautiful and engaging on the Windows platform, and simply by default " In the screenshot shown in the Windows Developer Day. The new stylistic path will be adopted on native applications, but will also be integrated and especially of those made by third party developers. Everything, it seems, thanks to simplified development tools.
NEON will be based on the use of graphic elements more pleasing to the eye, including more pronounced animations and transparencies. But Microsoft wants to naturally push developers to embrace the new UI as soon as possible in order to bring coherence to the appearance of the app operating system, whether they are made by Microsoft that Windows from any other developer. All embracing the " three-dimensional " element that will be predominant from Creators Update.
At the time of writing it seems likely the release of the new user interface with Redstone 3, with the official announcement to that effect could be made at the conference for developers Build to be held in May.
Inside Microsoft most likely will speak next time Windows 10 update, known today as Redstone 3, with the release of the first version Insider (beta) with NEON could get to a few weeks away.