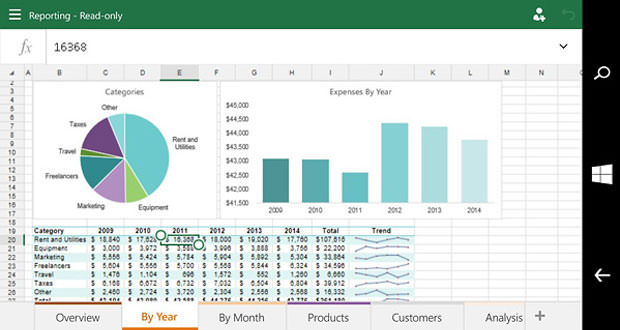 Microsoft Office in touch version arriving on smartphones Windows 10
Having announced versions for PC, tablets and notebooks, Microsoft informed that the smartphone version will be released by the end of the month.
The new versions of Microsoft Office are already touch on the iPhone and iPad for over a year, and a few months on Android tablet. The company is currently working on the variant " universal " for Windows 10, which has already released versions for PC, notebook and tablet, announcing a few days ago that it will debut by the end of the month also on the Technical Preview for Windows 10 smartphone.
Office is already present and integrated natively on Windows Phone, official applications have many features in less than the more modern counterparts available on iOS and Android. New applications " Universal ", offer the same features available on all devices, with interfaces designed specifically so as not to make frustrating user experience.
The new universal app, though, provides editing options limited, with users will still be able to unlock additional features through a paid subscription to Office 365. It is clear, that change text or spreadsheet on a smartphone is an operation significantly limited by the size risicate display, regardless of the efforts made by Microsoft on the interface.
Microsoft is working on multi-platform app already for Windows 8, but with the new API of Windows 10 requires that this is a distinctive characteristic of the entire ecosystem of Windows app. An ecosystem today it is still lagging behind iOS and Android, both as regards the number which in many cases also to the intrinsic quality of the creations.
Windows 10 wants to be the catalyst for the formation of a new unified ecosystem, whose applications are able to operate in a transparent manner on all types of compatible devices.