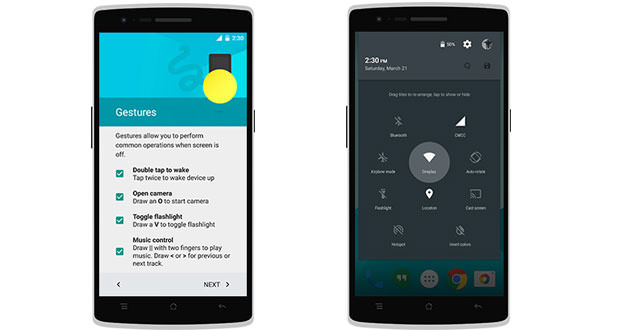 Oxygen OS: the first ROM proprietary OnePlus One available to download
It was finally released Oxygen OS, the first ROM proprietary OnePlus One based on Android 5.0.2 Lollipop.
OnePlus has released a new ROM official for its top of the range, the OnePlus One who won our ranking of the best smartphones in the last generation. Born with CyanogenMod and also available with Color OS of Oppo, the start-up of Pete Lau already announced he is leaving the third-party solutions to embrace a more free.
According to the press releases of the company, Oxygen OS is now the base from which we will develop a concept of smartphone focused on the will of the same community. The release was planned for March 27, but some problems with the certification processes of Google for the delay of a few weeks, with the release occurred during the past weekend.
As for the design of the graphical interface, Oxygen OS is essentially identical to the stock version of Android 5.0.2 Lollipop, the platform on which it is based and, which are applied some new demands loudly from the community. Among these, for example, to display off you can give several commands by performing the gesture related.
With a double tap the display lights, while drawing an O or V, respectively, to access the camera and turn on or off the flash LED bit like a torch. Other gesture also allow you to manage your music player: two vertical lines (| |) will allow you to play or pause music, while < and > with you can navigate the playlist between the previous or next tracks.
The center notifications, also graphically in line with the dictates of the stylistic Material Design, has been improved: with Oxygen OS individual icons quick sets can be added, moved or removed directly from the same screen and easily. As we said above, the first version is only the first step to " freedom ", according to OnePlus, with subsequent releases that will follow the wishes of the users for the addition of new features.
The process of installing the new ROM is not very fast and is explained by the same OnePlus on this page, where we also find the link to download all the necessary files. Once installed, Oxygen OS will have all the amenities of a traditional official ROM, including the ability to access all updates via OTA (over-the-air) without having to connect the device to a PC or Mac.