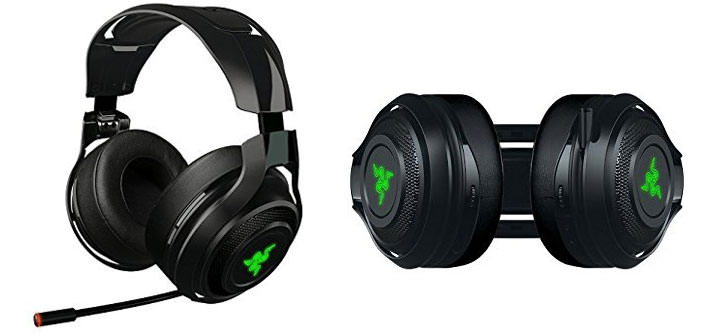 Razer ManO'War Wireless 7.1 Surround Sound Gaming Headset
New Razer Headset dedicated to players who are willing to spend a little more than usual to get the highest quality.
The new Razer ManO'War aim to offer a high-fidelity sound optimized for gaming and in order, starting from the optimization of wireless transmission. They are equipped with wireless antennas, which guarantee the pursuit of clear channel, and leverage an advanced code algorithm designed to manage wireless experience 2.4 GHz high performance and zero latency.
An ultra compact wireless USB adapter provides a plug-and-play connectivity up to 12 meters. Alternatively you can use the extension optional dock Razer ManO'War which allows to reach a radius of 14 meters.
The Razer ManO'War also contain neodymium magnets 50 mm reproducing sounds capes with a fidelity to 360°. They are larger than the average driver that offer virtual surround sound 7.1.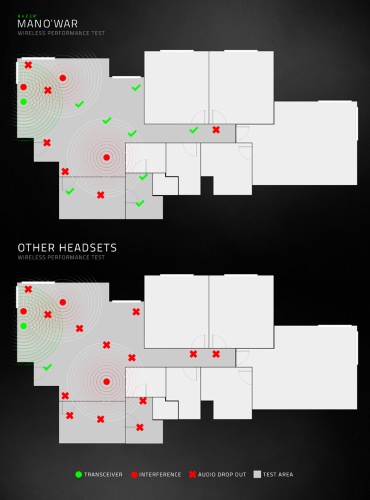 The positional audio calibration feature also allows you to personalize the listening experience to allow players to locate the exact position of the opponents. Finally, leatherette ear pads that cover the whole ear, ensure the sound insulation required.
Tucked away on the left headphone of Razer ManO'War is a retractable uni-directional digital microphone that comes out easily when needed and can be adjusted smoothly to the desired position. The Razer software aims to deliver crystal clear communications, ensuring noise cancellation.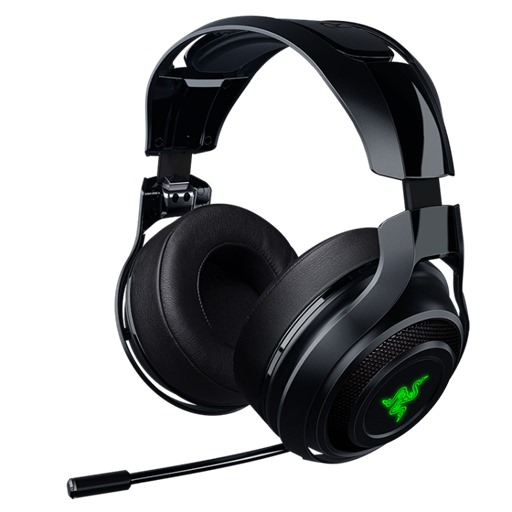 You can also adjust the volume of sound and microphone via Quick Action Control present on the headphones, while an LED indicator lights on the arm of the microphone when it is put in " mute " mode.
The headphones also support Razer Chroma lighting functionality, with the ability to combine effects with other Razer peripherals that support this technology, programming your own color schemes and to have 16.8 million colors for these customizations.
The price of these headphones is certainly not the cheapest, given that the list price is $169.99. While below you will find the full specifications.
Razer ManO'War Headphones :
Frequency response: 20 Hz – 20 kHz.
Impedance: 32 Ω at 1 kHz.
Sensitivity (@ 1 kHz): 112 ± 3 dB.
Power output: 30 mW (Max).
Drivers : 50 mm, with neodymium magnets.
Diameter of the halls: 60 mm.
Connection Type: Wireless USB Transmitter.
Wireless range: 12 m.
Wireless Frequency: 2.4 Ghz.
Battery life: up to 14 hours with lighting Chroma / 20 hours without lighting Chroma.
Approximate weight: 375 g.
Microphone :
Frequency response: 100 Hz – 10 kHz.
Signal-to-noise ratio. : > 60 dB.
Sensitivity (@ 1kHz): -38 ± 3 dB.
Pick-up type: One way.
41%
Product prices and availability are subject to change. Any price and availablility information displayed on Amazon at the time of purchase will apply to the purchase of any products.