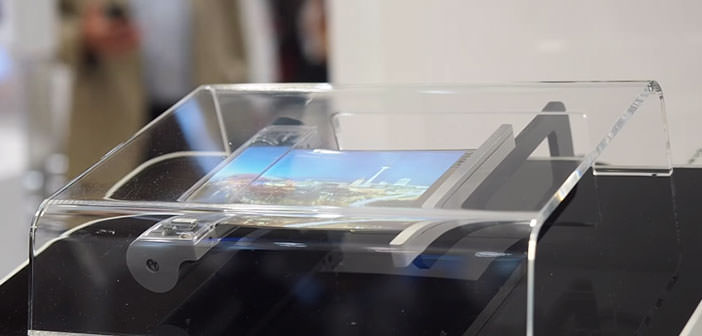 Samsung shows in action its innovative foldable display
At SID 2016, Samsung has shown in action its prototype foldable smartphones, which can be " closed " or " open " according to the need of the moment.
The first Samsung smartphone with truly foldable display is expected for 2017 according to unconfirmed reports. It will be installed on one of the top five of expected range for next year and will make use of production technologies for flexible panels of which the company is now using for some years. Flexible I SuperAMOLED debuted with Galaxy Note Edge, and the current line-up, we find them on Galaxy S7 edge with a double curvature in the two side vertices.
It is in all cases of permanent curves, but the goal not so concealed by Samsung is to provide a model of smartphone with foldable display, which can be both closed and opened on the basis of the needs of the moment.
The company has shown the SID 2016 San Francisco a technology that can respond to the need for innovation: it is a 5.7-inch Full HD resolution panel, then with pixel density lower than current models of the company.
From : Slashgear
Its peculiarity lies elsewhere only 0.3 mm thick and weighing 5g, the display can literally be rolled up around a metal cylinder (radius 10R) with the device begins to occupy a fraction of the space. The specified thickness is only possible to exclude the matrix necessary for the touch screen functionality, the presence of which would impact not only on the numbers of weight and thickness of the panel, but also and above all on its flexibility.
On a commercial device, there would also be the battery problem, absent from the prototype shown by Samsung that was fed externally. Samsung has not said during the event to as many push-ups can resist his system on a smartphone, which is observed by the users many times throughout the day, this could be a serious problem. At present, in our view, the arrival on the market is not entirely sure anytime soon.
However, Samsung has often shown in advance their technologies that would shortly thereafter have introduced to the consumer market.
In January 2013, he showed a prototype with curved display on one side, and only a little over a year later launched Galaxy Note Edge. So it is said that the new flexible prototype is not able to really reach the mass market.