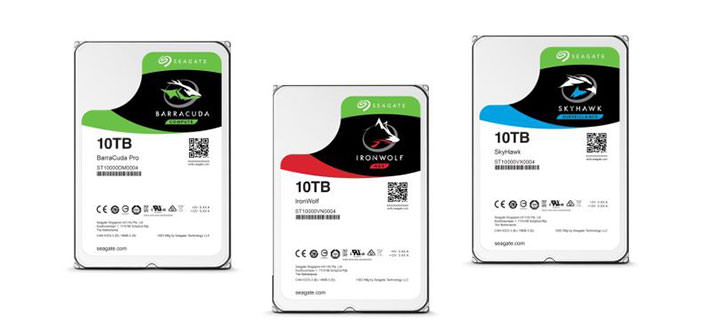 Seagate Barracuda Pro, from 10TB Helium hard drives for the consumer audience
With the new nomenclature Guardian now shows several highly specialized solutions for different market segments: Barracuda Pro is one that will appeal to home users, with solutions up to 10TB of storage space.
Thanks to the drop in SSD prices in recent years become the best storage solution on a personal computer to a host of increasingly high users. However, those who need large capacity can only rely on a good old mechanical drive, especially if you do not want to invest large sums of capital for solid-state high-capacity solutions. To emphasize this concept, we think Seagate, which has announced a new line-up of mechanical drives with up to 10TB.
Guardian is composed of three hard-disk families designed for different market segments: Barracuda Pro is the series designed for computers of high-performance home; IronWolf is instead of the family intended to NAS; SkyHawk that for surveillance systems.
Only the models to 10TB of individual households are helium, while all products support a rotation of 7200RPM disks, and use the traditional technology Perpendicular Magnetic Recording (PMR).
Barracuda Pro integrates 256MB of multi-tier cache for models 8 and 10TB, while the model to 6TB it only integrates 128. The household products are guaranteed for 5 years and they can respond effectively to loads of 300TB year job.
The IronWolf and SyHawk models instead are only guaranteed for three years, support natively in RAID configurations and specific functionality for different uses. They can handle loads of up to 180TB per year.
New products are offered at very high prices, but especially beneficial for those who need to make the most of storage space within a single storage unit. Seagate Barracuda Pro 10TB has a suggested retail price of $535, while IronWolf and SkyHawk will cost respectively $470 and $460. Seagate is not the first to propose mechanical disks helium, it approaches the market with an interesting strategy.
Addressing different products to different market segments the company diversifies the offer by proposing specific solutions with highly selected. With a solution dedicated to observation, a segment which is expected to should explode in the coming years, Seagate may be in a position of advantage over other direct competitors, and afford to offer in the future units to 10TB for the consumer audience at prices even more palatable.