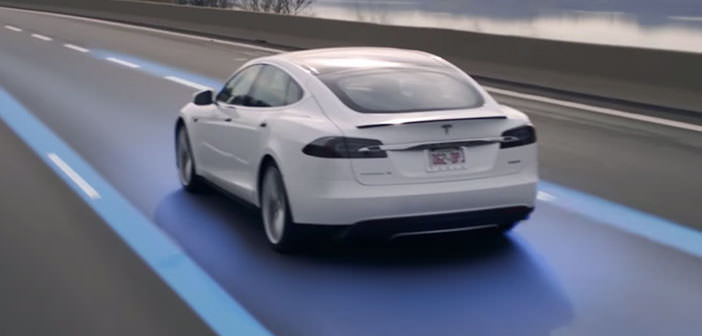 Tesla and autonomous driving: Paths 160 million km with the cars on the market
Tesla has announced that their cars currently in circulation have traveled 160 million kilometers in total autonomy. The data collected can be used to speed up the development of capabilities.
During the conference EmTech Digital Tuesday Sterling Anderson, head of Autopilot programs for Tesla, said that the owners of the cars of the company have already ground over 160 million kilometers in autonomous driving mode.
According to the manager data collection will allow to develop and refine the algorithms, and introduce new features in the near future. In circulation, there are about 70,000 Tesla vehicles compatible with the autopilot mode.
This allows Tesla Motors to collect data for a total of about 4 million kilometers per day, far more than what Google can do with its similar program that is not yet open to the public. The Mountain View company covered a total of approximately 2.4 million kilometers with few prototype car that is available, although it must be emphasized that the Google vehicles are fully autonomous and certainly more complex.
The Autopilot mode has been inserted in hardware for the first time in October 2014 in Tesla Model S. The following year the company has released the version 7.0 software updates, which introduced various features autonomous driving such as automatic steering, cruise-control with detection of traffic, automatic parking and automatic change of lane. Tesla cars are not completely autonomous, though, as they should be those of Google.
In time, Tesla has introduced small functions that have made possible the use of the autopilot mode in very specific circumstances: the cars of the American manufacturer can for example manage some simplified maneuvers and can drive independently on motorways. This allows Tesla to receive Level 2 certification of autonomous driving vehicles in the US, where a vehicle that does not require human intervention never get the level 4.
The Autopilot mode of the cars Tesla is not come without criticism, especially following the publication of a few videos on YouTube that showed the owners use it in dangerous ways.
The company was forced to strengthen security measures to reduce the chances of avoidable accidents, also pointing out that the mode is still in a state of development has not been finalized (open beta) and could have a variety of problems.