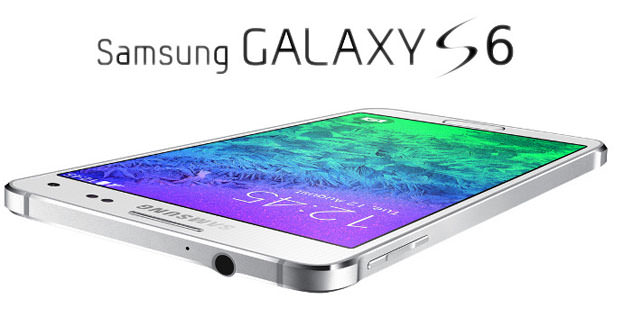 The CPU of the new Galaxy S6 ahead of the competition, the iPhone even better in single-core
Exynos 7420 seems to be a real gem in terms of performance. Published online in the first benchmark of the new Galaxy S6 and Galaxy S6 Edge. Here are the results. Draws to a close the Mobile World Congress 2015, but a few days from the official announcements have the first information about the actual performance of the new SoC octa-core Samsung Exynos 7420, which was implemented on the new Galaxy S6 and Galaxy S6 Edge. According to the first tests published by Computerbase.de, the new processor Korean should be a jewel in terms of performance.
The German site has published the results of tests of Geekbench 3, wherein Exynos 7420 excels with ease in relation to chipsets competitors, both of which previous current generation. The processor of the new Galaxy S6 and S6 Edge unexplored reaches a peak on the benchmark suite, surpassing the 4,500 points where Snapdragon 810 stops less than 4000 and Apple A8 does not even 3,000.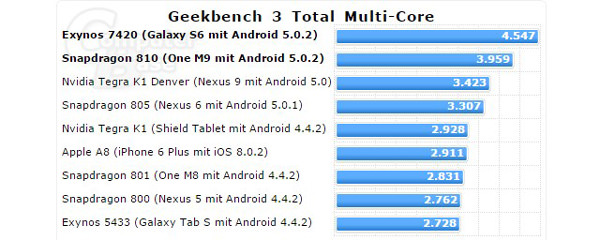 Although the first two hardware platforms are very similar, is different Apple's approach with its A8, and NVIDIA with its Tegra K1 on the basis Denver. It is SoC with dual-core CPU, in which the performances of the individual cores are substantially higher than products with more computing units. Precisely for this Tegra K1 and Apple A8 still managed to overcome Galaxy S6 in performance of a single-core, useful features of certain types of applications.

Exynos 7420 has absolute performance significantly higher Snapdragon 810 and, according to announcements from Samsung, pleasant surprises in store should also in terms of energy consumption thanks to the new production processes of the Koreans.