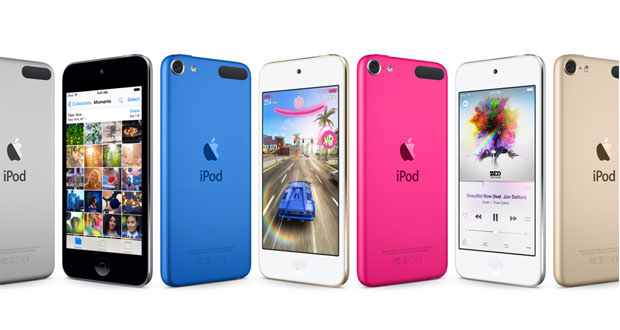 Apple Introduces New iPod Touch sixth-generation chip A8 and new colors
During the evening yesterday, Apple announced by press release the next-generation iPod Touch. Now in its sixth version of the new iPod provides an SoC to date and a number of new finishes regarding the coloring of the body.
It was an ad defined by imminent for some time now, and even if the continuous continuation of waiting began to discourage the most, during the evening of yesterday Apple has officially announced a new redesign of its flagship iPod, or iPod Touch. On sale starting from its last hours of yesterday the new multimedia entertainment device offers a number of new technical features and style that will rejuvenate and technical aspect.
" With the A8 chip, the same one used in the revolutionary iPhone 6, users can play games more engaging for longer, supported all the time by the great battery life. IPod touch has become one of the most popular platforms for mobile gaming the world – its 4-inch Retina display, and the rich collection of game titles are further enhanced with the amazing graphics performance and the thousands of games optimized with Metal. With cameras iSight and FaceTime HD improved, the owners of iPod touch will fun, for the first time, with functions already very popular as the slow motion and continuous shooting, while shooting memories and everyday moments with stunning photos and video. The Wi-Fi, three times faster than before, enabling customers to stay in touch with friends and family via FaceTime calls and easily download movies and TV shows. "

With these words, the press release announcing the main change, or the new A8 chip, the iPhone 6. The display remains the same size and resolution than the previous version.
iPod touch is equipped with iOS 8 and one of a number of useful applications integrated. And possible to send voice messages or unlimited text with iMessage via Wi-Fi, make quick changes to their photos with the photo app and keep track of your fitness and well-being with the app Health. By sharing function Family, up to six family members can share purchases on iTunes, iBooks and App Store, in addition to photos and calendars. Parents can also create Apple ID for children, which includes the " Ask to buy " that require parental consent for all purchases.
The new iPod touch starts from :
$199 for model 16 GB
$249 for model 32 GB
$299 for model 64 GB
$399 for model 128 GB
And the entire iPod family in its five new colors is available starting today through the Apple Online Store, Apple's retail stores and Apple Authorized Resellers.