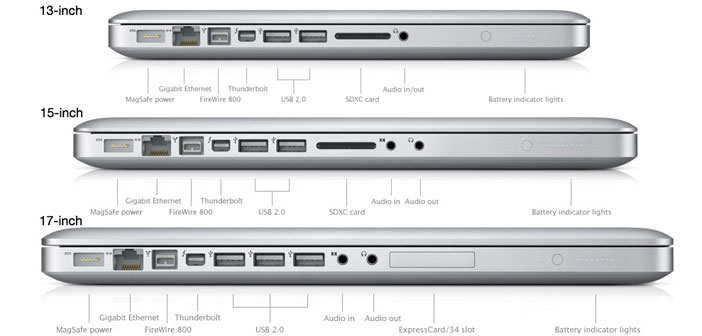 Apple: Users sign a petition to resurrect the 17-inch MacBook
The Cupertino company has long since removed the MacBook Pro with 17-inch display. A choice that is mourned by many professionals who have organized a petition asking Apple to return to produce the laptop with a larger display.
Apple users want her a MacBook Pro with 17-inch display. The request was organized by some professionals and not by a petition calling for the Cupertino company to " resurrect " the MacBook Pro display with increased for just those in everyday needs more space to carry out their projects and its activities. A request that does not seem to be really that unusual given that Apple increased the iPhone as well as iPad but over the years has " shrunk " leaving their laptops on the shelves only versions 13″ and 15″.
The largest MacBook Pro seems to fail to respond to many users who were very good with a 17-inch display and a larger working surface. Of course, this led to more than MacBook dimensions in mobility and above all a weight of 2.99 kg well that certainly could be detrimental to transportation.
Besides the introduction of new resolutions to 2,880×1,800 pixels in recent MacBook Pro have virtually destroyed the obsolete 1,920×1,200 pixels resolution of the MacBook Pro 17″ which should be clearly upgraded with a new panel. As though against the old 17″ allowed have USB ports, Thunderbolt port, audio input and output, ExpressCard slot, Firewire port Gigabit Ethernet port but also all things that current MacBook Pro have " bypassed " with two or four miserable USB Type-C.
The petition underwriters are convinced that the MacBook Pro reintroduction could get a major success among all those professionals who do not work on stationary machines like the iMac, but prefer to have a real laptop with a But most important display than the canonical 13″ and 15″.
Moreover, the users themselves complain of Apple's new policy as well as having abandoned this type of MacBook Pro has also decided not to build the now-famous Thunderbolt monitor declining to other companies that burden.
For this, a petition was opened that asks Apple to backtrack and propose a monitor made in Cupertino. Certainly at the moment, they seem to be few people who have signed both petitions symptom that maybe all this will have a 17-inch MacBook Pro is not there,