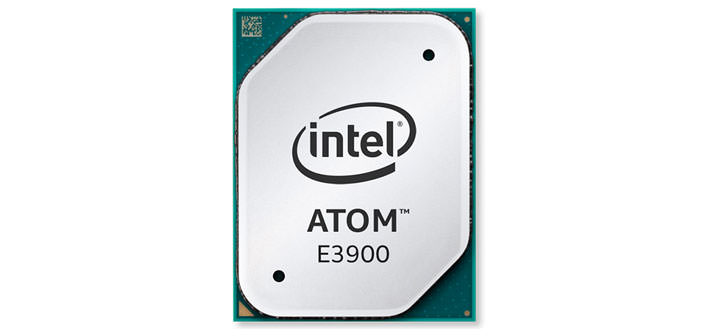 To debut the Intel Atom processor E3900 Apollo Lake, for IoT and industrial systems
Intel extends its presence in the world of connected devices presenting Atom E3900 processor, code-named Apollo Lake: specific performance and functionality all at reduced fuel consumption.
The development of so-called IoT solutions, Internet of Things, proceeds with a rate of growth which is surprising but easily identifiable in everyday experience a bit all. Just look at the number of connected devices that surround us, capable of recording and storing data in the cloud by sharing that can help the most different type.
As small and specialized, these devices require an internal processing power with an increasing rate which operates in parallel to their spread in the market. Intel has found in this area a very interesting market for its own CPU and SOC architectures, exploiting the technologies and the typical design of x86 solutions for traditional PC systems transferring even in those areas where compact size, operating stability over long period and consumption content must go hand in hand.
To support the growth of this industry today announced the Intel Atom E3900 family of processors, known under the name of Apollo Lake code. These are solutions that Intel offers specifically for certain vertical markets: that of cars, for example, to manage all infotainment solutions that are integrated; the industrial, where the real-time processing and the perfect synchronization from different devices engaged in the assembly line is essential; that of video systems, including adopted for video operations and data analytics.
To meet the specific needs of these markets has implemented in Intel Atom E3900 some peculiar characteristics solutions: processing power increased significantly compared to the proposals of the previous generation of the family Atom E3800:
Intel indicates an increase in power up to 1.7x side processing of CPU and up to 2.9x for the GPU component.
Integration of GPU, in variations up to 18 cores, capable of driving up to three displays at once as well as manage the encoding and decoding operations with video hardware acceleration.
Integration of a dedicated processor for the processing of the images, useful for all usage scenarios that relate to the video and its processing.
Intel Technology TCC (Computing Time Coordinated), thanks to which you can get a perfect synchronization between different devices by minimizing the latency of transactions in which they are engaged. The technology allows to obtain an accuracy of within 1 microsecond synchronization between the various devices, useful for example, when in a seat of the industrial production, the various devices are engaged in different tasks in the production line, and it is for this reason essential that the devices are synchronized with each other to proceed with the processing.
The Atom E3900 processors were developed by Intel to operate properly in a temperature range much wider than the traditional: the certification is for operation in environments from -40° to 85°. Thinking precisely to the target audience Intel also predicted a 7-year life, meaning that for seven years will be produced and made available to customers and partners in order to be adopted in their systems and products.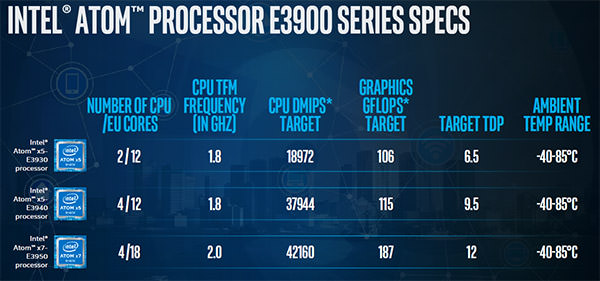 Intel Atom E3900 processor, today announced: The architecture of the CPU component may be either dual or quad core, with GPU that varies from 12 to 18 depending on the implementation core.
Change the CPU clock frequency and consequently increases the value of reaching a maximum TDP of 12 watts for the model Atom x7-E3950. Intel side software certifies Windows, Linux and Android operating systems such as to match these processors but there are specific optimization work for industrial uses providing for other packages.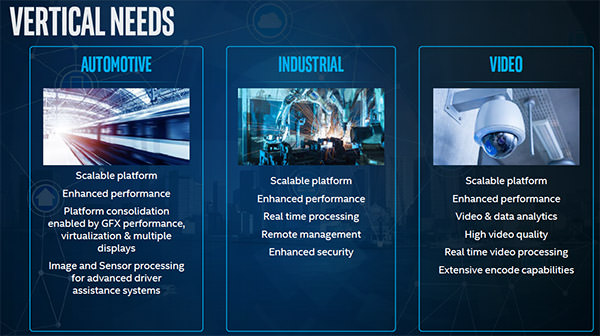 With the proposed Atom E3900, Intel aims to further expand its presence in the industrial segment, but it is clear about the focus on the automotive sector. The cars are turning to an appreciable extent, and their reliance on computer systems is becoming increasingly clear: after all in a not too distant future, we will have vehicles that will be able to drive yourself, thanks to the evolution of technology and the presence of increasingly sophisticated processors inside them.