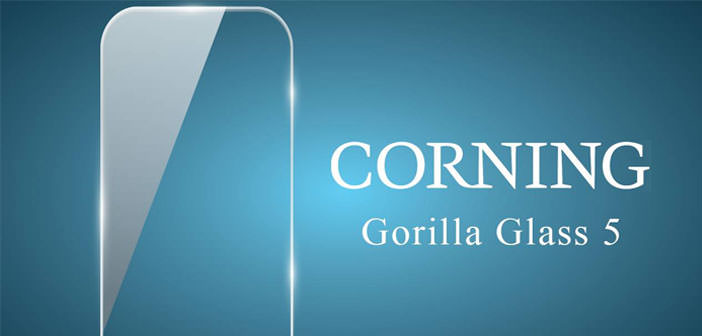 Gorilla Glass 5: The new super-resistant glass for smartphones
Corning announces the fifth version of the glass used for the protection of the smartphone display. Gorilla Glass 5 ensures a resistance to falls from a height greater than the previous Gorilla Glass 4.
Corning name is known in the mobile device market for the production glass of Gorilla Glass, highly resistant panels used to protect the screens of smartphones and tablets.
Products that, very frequently, are a standard feature of high-end handsets and media. Corning has just announced the fifth version of Gorilla Glass, which introduces, of course, an improvement in the parameter of damage resistance, without adversely affecting the transparency of the glass and the touch sensitivity.
In laboratory tests conducted by Corning, the new glass Gorilla Glass 5 managed to indemnify exceed 80% of falls from a height of 1.6 meters on rough surfaces. The glass Gorilla Glass 4, presented in November 2015, was able to pass the tests with the same percentage of success, but only simulating the fall from a height of 1 meter. The decision to step up efforts to make the glass resistant to damage even if dropped from a height greater than one meter is not accidental.
Corning relates to the results of a recent study conducted in 11 countries (including Italy the figure) according to which over 85% of smartphone owners have done it accidentally fall at least once in a year, 55% three or many times.
In 60% of cases, the fall occurred while he handled the terminal at a height between the waist and shoulders. With the growing fashion of selfies, it is not uncommon to handle the terminal shoulder height, but with a power less stronger than when you make a call. Refinements so appreciable those introduced by Corning.
The company announced the new glass Gorilla Glass 5 is already commercially available for mobile device manufacturers concerned and confirmed that the first models equipped with the new version of glass Gorilla Glass, made by top market brands, will be available by the end year.
Corning will have no difficulty to ask the attention of all the major manufacturers of smartphones in the light of the results obtained in ten years of activity: more than 4.5 billion devices equipped with glass Gorilla Glass all over the world, for a total of about 1,800 models made by 40 companies.