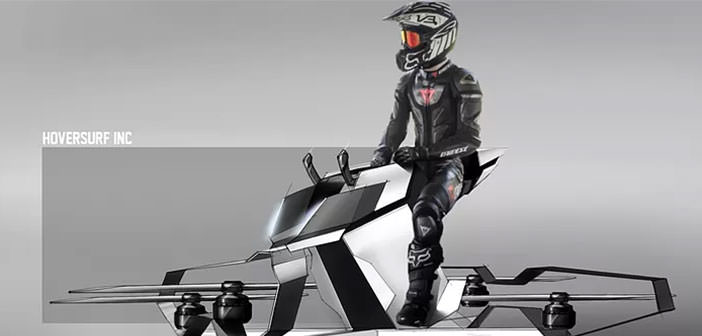 Hoversurf Scorpion-3, Where the drone meets the motorcycle
Shown in the video a working prototype of a hoverbike: a motorcycle capable of floating in mid-air just like a drone. It is not known, whether the project will reach the market.
It did not take that long because the concept of four-helix rotors (which improperly, but at length, is referred to as " drones " ) is extended to a means of transport: Hoversurf, a Russian company realizes drones has posted a video in recent days showing a prototype of Scorpion-3, a " hoverbike " electric cars can float in the air and transport.
The manufacturer claims that he wanted to join a propulsion system with four rotors the traditional idea of ​​the motorcycle, with the aim of creating a " means of extreme sports. " What came out is aimed, at least in the intentions of the company, to an audience of " fans and professionals. "
Scorpion-3 is able to offer a navigation system is automatic, is completely manual thanks to control systems that the company defines " state of the art " to manage with precision all the parameters by the speed of flight altitude.
The video shows a working prototype, albeit for a very short range and a few meters from the ground. The appearance more disturbing are the four propellers without any protection, that could cause accidents also particularly serious in the case of awkward maneuvers or sudden movements of the pilot. It is not known if this prototype actually reach volume production, but will probably need to rethink the design in such a way as to make Scorpion-3 a safer medium.