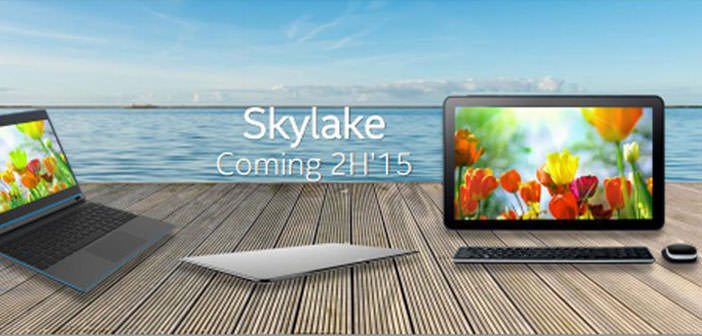 Intel confirms also the CPU Skylake in this 2015
And the same CEO to confirm: during the second half of 2015 will come on the market the first family systems Skylake, name that identifies the new generations of processor Core series. In the course of 2015, we will see two different processor architectures proposed by Intel on the market, based on the same production technology but different as regards the architectural component.
The first is called Broadwell, already known among fans as it identifies the CPU Core family M presented by the American next to the Core i7, Core i5 and Core i3 announced a few days ago at the CES 2015 in Las Vegas and intended to notebook systems.
The second processor Skylake architecture is expected in 2015 , which Intel CEO Brian Krzanich confirmed will be presented in the second half of 2015. Production process to 14 nanometers but always a completely new core, which will also require the combination to new platforms 100 chipset family and new motherboards view the compatibility of these processors with DDR4.
Other novelty with Skylake come with the mobile platforms, equipped with various technologies such as those of new implementation of wireless charging and WiGig for transmitting wireless data at high speed. At the edition 2014 of its Intel Developer Forum showed some demos of systems based mobile platform Skylake, our attention is just on the ability of these solutions to provide charging capabilities and fast data transmission without using cables.
Hence during the year, and is the same Intel to confirm, will be two families of processors Intel desktop and mobile to be made simultaneously available for sale. It's possible that the American company can work trying to avoid an overlap between the two types of net processors within the same market segment, which is why we believe that plausible solutions Skylake be offered initially in the versions for mobile systems lower consumption, those of CPU Core-M, followed by those of high-end mobile processors always low consumption.
The occurrence of this scenario, with two Intel architecture different present at any time on the market, is dictated by the delays in the debut of the CPU Broadwell. Some difficulties related to the production with a 14-nanometer production technology have shifted the debut of these processors; the news is that Intel does not want to postpone the launch of this reason Skylake and for this reason we will see on the market, from the second half of the year, these solutions adopted by partners Intel.