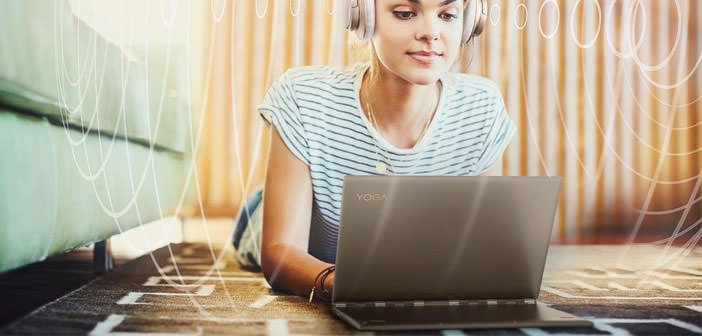 Lenovo introduces Yoga 920, a highly performing and stylish convertible
Numerous new features introduced by Lenovo, including the exclusive Yoga 920, featuring finishing touches and top-level internal components. Here in detail.
Lenovo is the first name in the landscape of portable PCs commonly known, and there are many variations to the traditional classical notebooks. One of the most successful interpretations is certainly that of so-called convertibles, which can take on classical form, but at the same time act as a tablet (and all intermediate configurations), as the screen can rotate completely below the body of the PC.
The screen of these devices is always touchscreeen, of course, making them automatically fall into those that are defined as 2 in 1, of which there are cheap versions up to the high end. It is in the latter that Lenovo's new Yoga 920 is made of high-quality finishes and top-level internal components. We offer you a very rich photo gallery, where you can notice the constructive care and platimum, bronze and copper colors available.
So, we come to internal components: as many products presented, their debut with the eighth generation Intel processors, up to Core i7 models, which will be matched with a quantity of 8GB, 12GB or 16GB DDR4 RAM. Also interesting is the storage subsection, with only 256GB, 512TB and 1TB SSD options.
This slideshow requires JavaScript.
The weight is really low, about 1.37 Kg, while the slim frame surrounding the monitor is really nice. Already, Monitor: Lenovo offers two 13.9-inch diagonal options, both IPS touchscreen, differentiated for resolution. You can buy a Lenovo Yoga 920 with a resolution of 1,920×1,080 pixels or 3,840×2,160 pixels (4K), while the rest of the optional features of ports and components are also important.
In addition to the Bluetooth and Wi-Fi a/c, there are 2 USB Type-C USB ports compatible with Thunderbolt, DisplayPort, USB 3.0 and Power Delivery, and a standard USB 3.0 in addition to the audio jack. The fingerprint reader, keypad backlight, JBL audio system and, optionally, Lenovo Active Pen 2, are also missing. The system is also ready to be interfaced with the Mixed Reality Headset system, both from Lenovo and from other manufacturers standard Microsoft.