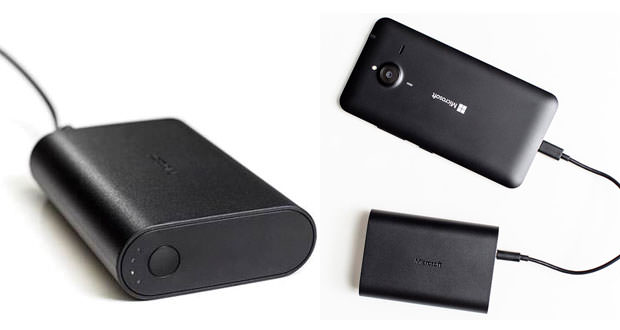 Microsoft gives you the battery pack with the new Portable Dual
They will arrive in the coming weeks the new battery pack of Microsoft, designed to charge your smartphone and tablet simultaneously. Will be available in three different capacity cuts.
To celebrate the arrival of summer, Microsoft is launching three new external batteries. The family Portable Dual will comprise the launch of three different models of different capacities for the integrated battery: starting from 5,200 mAh to 12,000 mAh. Three products designed for vacationers and to ward off their nightmare to stay " with the battery ground " during the visit of the heart of their city.
The Microsoft Portable Dual are all equipped with two USB ports, and allow the charging of two devices simultaneously, such as a smartphone and a tablet micro-USB. The integrated batteries, also, according to Microsoft, allow to maintain a stable charging over time, guaranteeing the 80% threshold " for months ". Microsoft was also expressed about the speed of charge, often the Achilles heel of such solutions.
With the Microsoft Portable Dual is guaranteed a speed equal to that obtainable with the charger Nokia AC60. The latter is an accessory that delivers about 1,500 mA with a voltage of 5V, and slightly higher than the proposed standard charger supplied with smartphones today (not including the models in quick charge). Finally, an indicator LED to check at all times the energy levels of the power pack.
Very interesting functionality " Daisy Chain ", which allows you to load both the power pack to the mobile device simultaneously. It may seem strange that Microsoft has given to the production of accessories for smartphones, but the rest is the " brunt " payable through the acquisition of Nokia, who before becoming Microsoft also dabbled in the sale of this type of product.
The Microsoft Portable Dual will be available in the coming weeks in Italy at a sale price not yet confirmed, but estimated at $35, $45 and $55 respectively for the model to be 5,200, 9,000 and 12,000 mAh.