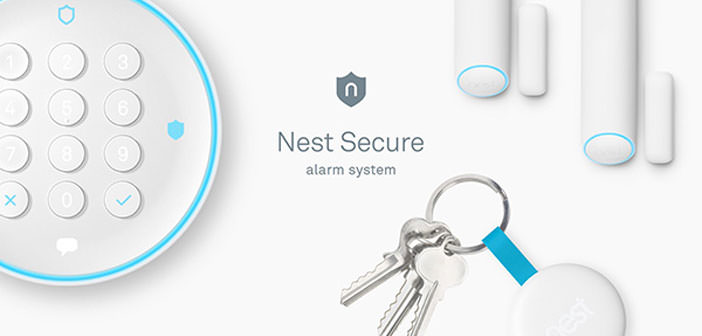 Nest Secure, Hello and Cam IQ: Here are the new Smart Home products
Nest announces six new devices in three entirely new commercial products, doubling its business proposal for the second time in a year.
Nest has today formalized six new devices in three entirely new business proposals: Nest Secure is a home security solution that deters intruders based on three different technologies; Nest Hello is instead of a smart doorbell with an integrated camera; and finally Nest Cam IQ for exteriors is a video surveillance system with artificial intelligence that can also be used in outdoor environments.
Nest Secure
Nest Secure is promoted as a home security system designed to " simplify the lives of those who live in the home, and to complicate it to the bad guys ". This product addresses the different habits of the various families, which can exploit a simplified alarm system open to all types of users. The basic kit consists of three different products:
Nest Guard : the security base with human voice that implements alarm, keypad and motion sensor.
Nest Detect : is a compact battery-powered sensor that detects both the movements and the opening and closing of doors and windows. It can be placed on a window, thus announcing its opening, or on a wall, thus detecting the movements in the room. If you place it on a door, instead, it can be set to do both.
Nest Tag : is an electronic remote control that can be attached to the key ring and can activate or disable the Nest Secure system without passcode. The Tag can be shared with family members and with people who regularly attend the home.
Nest Secure starting at $499 with a Nest Guard, two Nest Detects and two Nest Tags bundled together. Preorders are already active today, but will only arrive in Europe in 2018. Each additional Nest Detect costs $59, Nest Tags $25 per piece.
---
Nest Hello, doorbell with camera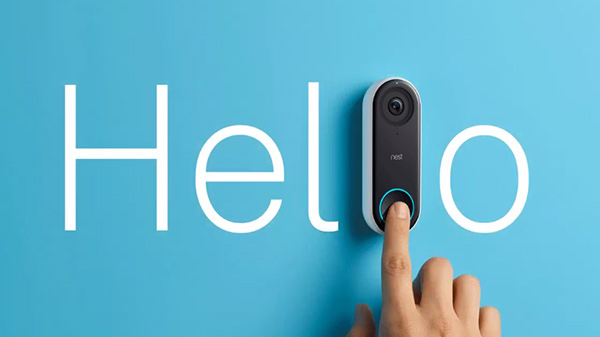 Nest offered up to date several cameras with artificial intelligence, but did not use its own doorbell technology. With Nest Hello, it also covers the front door, noting the presence of people and sending for each of these a notice combined with a snapshot even if the doorbell is not ringed. With Nest Aware, customers can receive alerts even when an unknown face or suspicious activity is detected.
The user can naturally interact with guests and strangers and converse in natural way thanks to the Speak and Listen in HD function. The bell also supports echo cancellation and environmental noise cancellation, ensuring clear and clear listening on the map even in the presence of street traffic. There is also the possibility of entering pre-recorded answers, in order to respond quickly and effortlessly to visitors with a simple touch in the app.
Nest Hello will arrive in the United States in the first quarter of 2018, then in Europe and Canada.
---
Nest Cam IQ for exteriors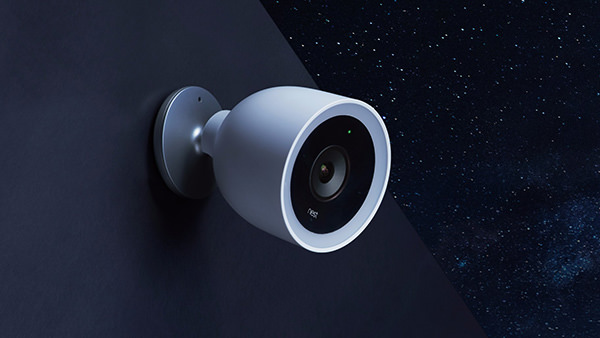 Nest Cam IQ for outdoor is a natural complement to the interior version launched in early 2017. It is a " smart " camera with artificial intelligence, which is now declined in a version designed for outdoor environments. The new product has a new design and aims to offer adequate video surveillance from outside spaces, detecting the presence of unknown faces, for example: in the garden and alerting the owner.
Other announcements and additions
Nest has announced several innovations, including the support of Google Assistant on the Nest Cam IQ camera for interiors with which new features of artificial intelligence are developed and for the voice management of the home security system. Nest is also collaborating with Yale to modernize the tradition of security locks. The new lock leverages Thread and Weave technologies to work even when there is no Internet connection with Nest Secure products and other Nest products. It will arrive in 2018.
Nest Connect will also be launched, an accessory to enable Nest Secure to work in larger environments, ensuring that the Nest + Yale lock and other similar products connect to the Internet and can be controlled via Nest.
The company is working on the Work with Nest project, in order to combine proprietary security systems with products from other companies (such as companies that deal with smart lighting systems) in order to pretend the presence of someone in the home even when in reality. There is nobody.