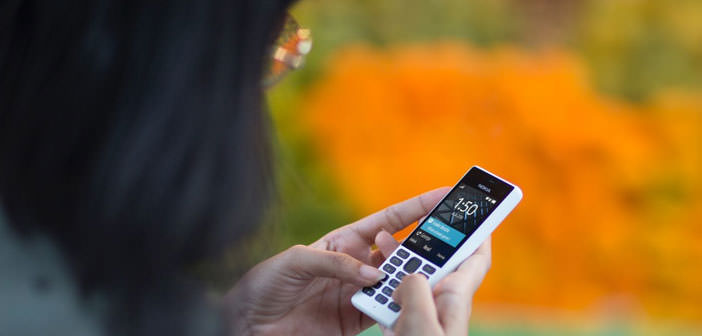 Nokia returns to Europe with a phone from 40 € for anti smartphone. Here is the Nokia 150
The company after the end of the partnership with Microsoft has decided to return to Europe with a mobile low-cost and especially little smartphone. The new Nokia 150 allows making calls, sending SMS, has a battery that lasts a month and costs just € 40.
When it comes to Nokia, we know that we speak of a leading company in the telephony sector during the late nineties. His successes N series that somehow tried to put the user at a much higher level with regard to multimedia than the competition yet realized. Then with the arrival of the various iPhone and Samsung Galaxy S, unfortunately, the Finnish company has failed more off a true smartphone on par with the competition, and this led to the first of Microsoft's mercy and then to its final disposal.
From China wanted to still believe in the Nokia brand, and the HMD has decided to create new smartphones precisely affixing the Finnish brand. From there we saw the birth of Nokia 6 at MWC and you will see the presentation of new top of the line devices.
In all this, the company has officially announced today its return to Europe by presenting the small and inexpensive Nokia 150, a cell phone than a smartphone, and with less than 40 € list price is on the market for everyone they need a simple phone.
The new Nokia 150 is also distributed in dual SIM version. It has a decidedly retro design than the high technology of the latest iPhone or Galaxy. Yes, because essentially it is made entirely of plastic and has a display, no touch screen, 2.4-inch by QVGA resolution.
Forget even faster LTE network, Wi-Fi and mobile applications because the new " low cost " Nokia will allow users to make calls, write and receive text messages and little else. The network on which to work, is the forgotten GSM 900 and 1800 MHz that will still allow you to make calls at any location without the worry of having more or less the field for the data connection.
The Nokia 150 is undoubtedly a real " anti-smartphone " in every way, and this is also apparent from its autonomy. Yes, because thanks to its non-connectivity and 1020 mAh battery, standby, can reach even more than a month of battery life with 22 hours of continuous talk time.
A dream for ever more powerful smartphones today and no doubt more and more waste. Do not forget a small VGA camera at the rear with LED flash that can be used for " money " shots. The price? Only 39.99 € for a phone that will finally make what it has always been created: Call.
The new Nokia 150 is not clearly what users expect in 2017, but it is a sign that the company is ready to get back on the European market, and this little phone is clearly just a taste of what will be the future.
Those who do not are in search of the latest in terms of technology or those who want to have in your pocket a spare phone with autonomy without limits can be found in the new Nokia 150 some and who knows ally among iPhone with remote charging to radio and Galaxy waves with iris scanning cannot " sneak " the small low cost Nokia.