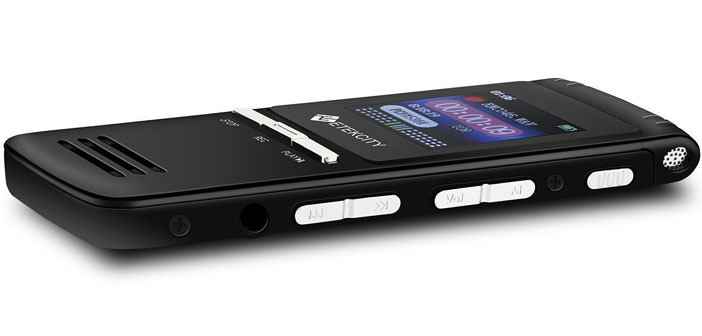 Review: Etekcity digital recorder, handy and suitable for any use
We tests the Etekcity digital recorder, suitable for students and professionals, for environmental records within 10 meters. Here are the pros and cons.
What a joke, whether in work, a portable digital recorder may be used in multiple situations. We tested to Etekcity, lightweight, easy to handle and with several extra features. On Amazon, the version with 8 GB of memory costs $35.55. Here are the pros, and cons of this device.
On the plus side, no doubt, the appearance, size and weight. It looks good, rather discreet, albeit with obvious front keys, which have rapid start recording functions, indispensable for an accessory of this kind. It weighs just over 70 grams, and the dimensions are contained in 3.84″ x 1.55″ x 0.40″, much smaller than any smartphone. It holds up well in hand and transported without any problems in any pocket of trousers, also close or snug. In short, the appearance is certainly to be considered among the positives.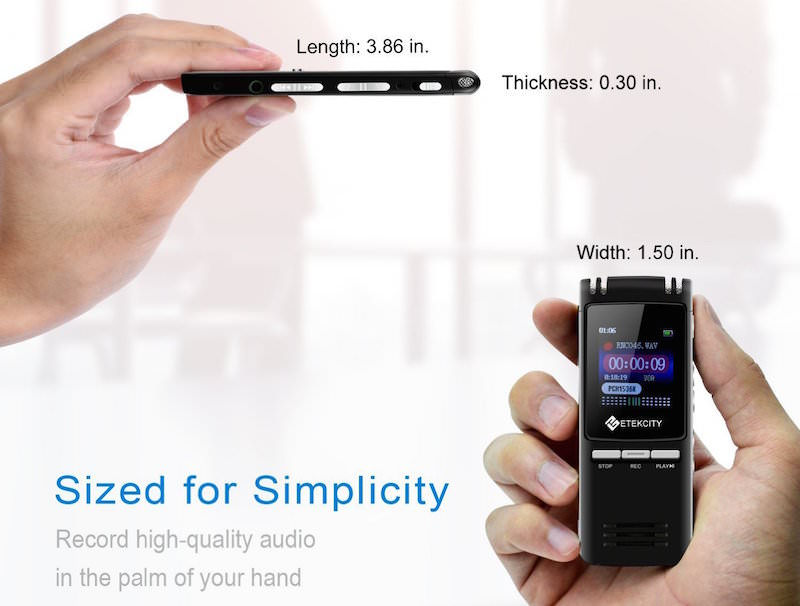 On the front a color display rather large considering the use that is made of the recorder, although certainly not quality. The colors and resolutions cannot in any way be compared to those of a modern smartphone, as well as the firmware and the menus are somewhat outdated and crude. All in all, though, it does not matter, since the main function of this recorder is environmental record and, in the alternative sound, listen to music, as you might do with any MP3 player.
You must learn to live, with a not always intuitive navigation through the menu, because of the multiple keys, front and side; initially, simply select the various menu items or to increase the volume, you will have to deal with an outdated firmware, away from the current, intuitive OS.
Fortunately, the front REC button is used with the push of a single button to immediately start recording. This is a particularly welcome feature for a digital recorder, so it's always ready to record. Beyond the menu and the firmware version of the recorder under test is more than enough for any use. It should certainly be good for the students, so they can record lectures, but it might be good for professionals or anyone who wanted to record conversations and ambient sound.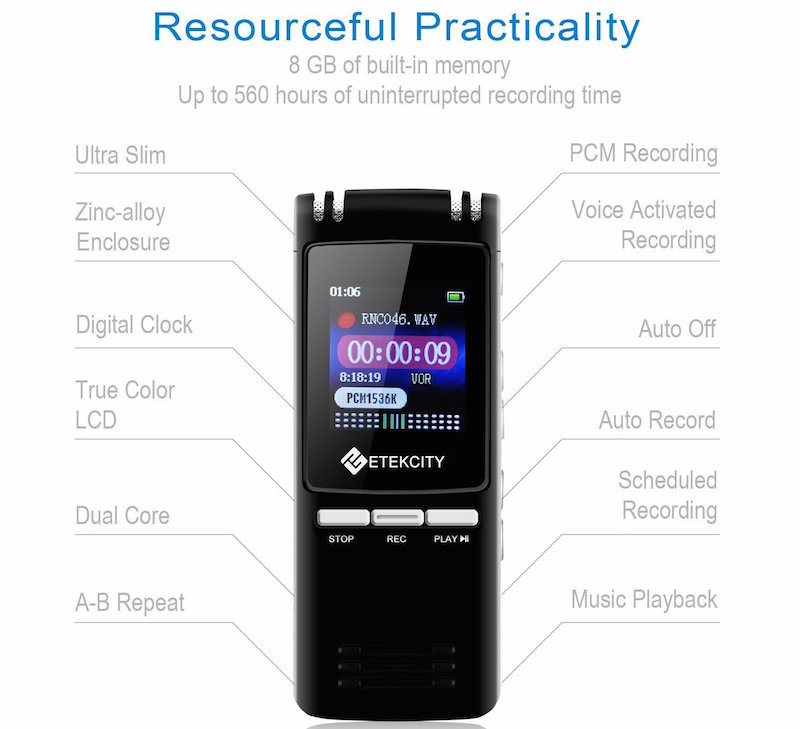 During our tests, in a medium-sized room, we were able to record a voice coming from any angle, signal that the microphone is of high quality. In short, the recorder will be able to pick up sufficiently, all the speeches made within a 10 m radius.
Certainly not playing you will hear a deep, warm sound, but then it is not a speaker or a portable radio. His job is to make it perfectly recognizable words and speeches: in this, we still managed well.
And by the same token, it is not recommended to use it as a portable player, because the speaker quality is certainly not the best. It is nevertheless appropriate to elicit speech and ambient noise, enough for playing music. To use the latter, you can always do without the smartphone, and music streaming services like Spotify and Apple Music, you may want to wear in-ear headphones included.
Among the more advanced, functions use also the one that allows you to start and stop, automatically recording, while other extra features such as the alarm clock, allow a different use of the device. That it does not have a key lock function, while it is recording: it could happen to accidentally press the button and stop recording inadvertently.
The memory of 8 GB, according to the manufacturer, allows users to record approximately 560 hours, but the data are not too truthful. Just to provide some indication, for 1 minute recording, just over 11 MB are needed: the output file is in *.WAV.
The integrated battery allows you to record for at least five hours, if not more, but drop to less than 3 in the case of music playback. And this shut-off function after 2 minutes of inactivity, as well as one that disables the microphone in case of silence and turns it on again when they are perceived background noise.
Product prices and availability are subject to change. Any price and availablility information displayed on Amazon at the time of purchase will apply to the purchase of any products.
Conclusions
If you exclude a firmware and a UI of not too intuitive menus, indeed rather antiquated, this Etekcity recorder is a very worthy purchase, even if the sale price is slightly above average for the type of object. The good microphone is certainly the element that could justify the slight premium.