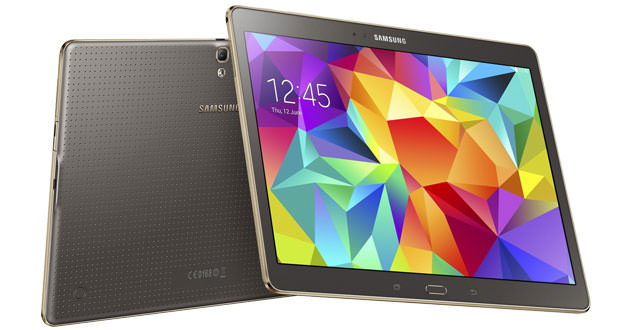 Samsung Galaxy Tab S2 with aluminum frames and thinner than iPad Air 2.
Emerge new rumors about Galaxy Tab S2, the successor of the tablet with SuperAMOLED display: will be thinner and with premium materials. In the future we do not find only Samsung Galaxy S and Galaxy S6 Edge but, according to reports from SamMobile, the consumer electronics giant will be preparing the launch of the new Galaxy Tab S2. We are talking of the successors of the display models SuperAMOLED, we awarded the second place in our annual ranking of the tablet and systems 2-in-1.
Samsung does not want to give up the competition with Apple, and will try to innovate by focusing just on the key points of the proposed Cupertino. According to sources cited by the report, the Galaxy Tab S2 series will consist of two versions 8.0 and 9.7″, similar to the two Air iPad 2 and iPad mini with display Retina 2. In comparison, previous models espoused diagonal display 8.4″ and 10.5″.
We have not yet had confirmation, but at first glance it seems likely that the new Galaxy Tab S will report an aspect-ratio of 4: 3 for the screen, just like the Apple tablet and the latest Nexus device from HTC. This is a feature that Samsung may also resume on the new Galaxy Tab A and A Plus, the alleged new tablet Korean for the midrange.
The two Galaxy Tab S2, according to reports we learn from SamMobile, will be thinner than iPad Air 2, remember that boasts a thickness of 6.1 mm, among the smaller category. Samsung also could expand the language of design with premium materials that launched in the smartphone sector, introducing metal frames also on the new Galaxy Tab S2.
Of course, we cannot confirm, nor deny, the words reported by SamMobile, and we look forward to an official announcement by the company. The previous models were launched on the market in the month of July, and it is likely that the successors are not released before the summer of 2015.