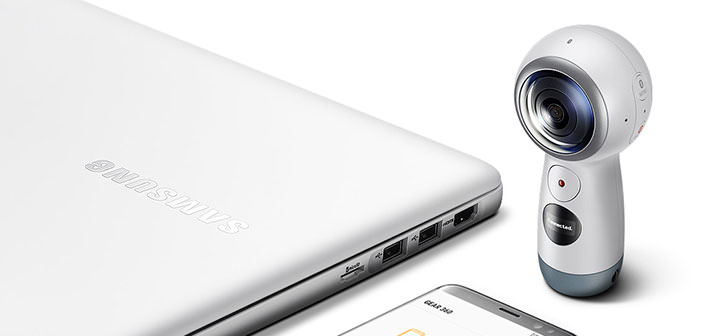 Samsung Gear 360 (2017) introduces support for the 4K videos VR
Samsung expands its line-up of products and solutions for virtual reality with a new 360-degree video camera that also records at 4K resolution. Here is the new Gear 360 (2017).
With a new design and new features for live streaming, the Samsung Gear 360 (2017) allows you to make videos at 360 ° for virtual reality even at 4K resolution. The Koreans have staked everything on portability and ease of use, with dimensions and extremely low weight for easy transportation. The new pocket camcorder complete the Samsung ecosystem of solutions for virtual reality with a significant increase in video quality.
The support for 4K resolution is undoubtedly the most succulent novelty of the new video camera 360°, and is mainly due to the use of new 8.4-megapixel sensors for the two modules installed on each other's shoulders. The objectives using the fisheye lens with f/2.2 aperture, but besides the quality of the images was also given space to new sharing capabilities, visualization and immediate modification of the contents to 360 degrees.
Users will have the ability to access different display modes, editing tools, effects and filters to create customized content. The videos at 360 degrees can also be converted to standard video easily for sharing content, including traditional systems. The function 360 Social Broadcast Live also allows you to share a real-time recording through pairing with a smartphone or compatible computer.
The experiences live can be shared with some social networks, including Facebook, YouTube and Samsung VR. For the first time for the family Gear 360 new 2017 model will also be compatible with iPhone. The compatibility list provides Galaxy S8 and Galaxy S8+, Galaxy S7, Galaxy S7 edge, Galaxy S6 edge+, Galaxy S6, Galaxy S6 edge and Galaxy A5 (2017) on the Android front, and on iPhone 7, iPhone 7 Plus , iPhone 6s, iPhone 6s Plus SE and iPhone with iOS.
The camera also supports PC with Windows and MacOS systems that make use of as well as a wide range of accessories and supports third-party.
Camera : CMOS 8.4MP x2 / F2.2 lens (Default output pixel count equivalent to 15MP)
Dual Lens Mode, Single Lens Mode (Front/Rear)
Video, Photo,Time lapse, Video looping, Landscape HDR
EV, Sharpness, White Balance, HDR, Wind Cut, ISO Limit (up to 1600)
Horizontal Correction, Geo Tagging (via Smartphone)
Still Capturing (Max Resolution)
360˚ Dual Lens: up to 15MP (5472 x 2736)
Single Lens: up to 3MP (2304 x 1296)
Format: JPEG
Video : Video Recording (Max Resolution)
360˚ Dual Lens: up to 4096 x 2048 (24fps)
Single Lens: up to 1920 x 1080 (60fps)
Codec: MP4 (H.265)
Battery : 1,160mAh
External Memory : MicroSD card (up to 256GB)
OS Convergence : Android, iOS – Mobile Application, Windows, Mac – PC Software
Smartphone compatibility : 
Galaxy S8, S8+, S7, S7 Edge, Note5, S6, S6 Edge, S6 Edge+, A5/A7 (2017) running Android 5.0 or later.
iPhone 7, 7+, 6S, 6S+, SE running iOS 10.0 or later.
Connectivity : Wi-Fi 802.11 a/b/g/n/ac (2.4/5GHz), Wi-Fi Direct, Bluetooth v4.1, USB 2.0 (Type-C)
IF Connector : USB 2.0 (Type-C)
Sensor : Gyro, Accelerometer
Water & Dust proof : IP53 (Dust and Splash-proof)
Product prices and availability are subject to change. Any price and availablility information displayed on Amazon at the time of purchase will apply to the purchase of any products.