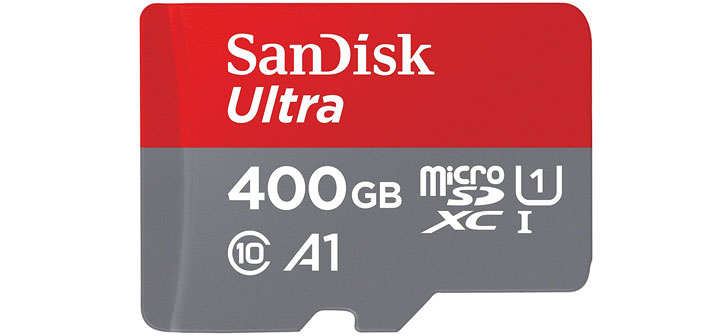 SanDisk Ultra Micro SDXC Card from 400 GB
Western Digital Corporation has announced a new Micro SDXC UHS-I card labeled the SanDisk Ultra dedicated to the mobile device industry, with a capacity of up to 400 GB, worth up to now never seen on an SD card.
Western Digital Corporation, today announced a new microS DXC UHS-I card with a capacity of up to 400 GB, worth no more than ever before on an SD card; dedicated to the mobile device industry, arrives after two years of presentation of the former larger 200Gb micro SDXC card, the new version offers the most demanding users a doubled capacity while maintaining class 10 with a data transfer rate of up to 100 MB/s.
" Mobile devices have become the epicenter of our lives, and consumers are now accustomed to using their smartphones for anything from entertainment to work. We are collecting and sharing huge amounts of data through smartphones, drones, tablets, PCs, laptops and more and more with the advancement of technology and content quality will be more and more space, " says Jeff Janukowicz, vice president of the research industry for IDC (International Data Corporation).
Western Digital has been able to achieve this goal of capacity, optimizing over the years its design and production processes to reach a greater bit density per die, but lacking more detailed information on the type of memory used: " We continue to push the technological limits forward and try to transform the way consumers use their mobile devices, " said Sven Rathjen, vice president of Western Digital Marketing.
Of course, 400 GB on a mobile device are really many, perhaps one of the most tangible advantages is the one related to the storage of video content, with which today can easily reach important dimensions: you can save up to 40 hours of full HD video or try to install all your apps on the Play Store on your smartphone or tablet.
Along with the card, the SanDisk Memory Zone application is also advertised, useful for users who want to have greater control over the data contained in the external storage of their mobile device: the app, available for free on the Play Store, is compatible with most of the Android devices and allows users to locate, organize, transfer, and backup data, including the contents of their Facebook and Instagram accounts.
The new SanDisk Ultra micro SDXC UHS-I card 400 GB, in addition to its record capacity, is also equipped with a ten-year-long warranty; will be available shortly to both SanDisk e-store and major retailers at a suggested retail price, in line with capacity and performance, at $249.99.