Saygus V2: at CES also a smartphone with dual 320GB microSD slot
The American Saygus presented at CES in Las Vegas a smartphone without compromise in terms of storage. Saygus V2 smartphone is designed for those who love to enjoy multimedia content on the move. The feature is highlighted by the double slot microSD, which sets a new record in terms of mobile phones with up to 320 GB of storage accessible via two memory cards and flash drives integrated 64 GB.
In addition, the Saygus V2 supports the standard HD Wi-Fi, also known as 60 GHz Wi-Fi, with which project any image of the device to an external TV through a HDMI or USB dongle.
The heart of the device is a quad-core Snapdragon processor 2.5 GHz, supported by 3 GB of RAM and Android 4.4.4 KitKat plane software. The two cameras rely 21 and 13 megapixels, respectively on the back and the front, while the quality of the two stereo speakers is certified by the industry giant Harman Kardon audio. The built-in microphones are three and are managed by the cancellation technology background noise of Cypher Sound.
Among the unique features Saygus also reports a Fractal Antenna Technology, declares compatible with the 4G LTE networks. Saygus V2 includes a display from 5″ to Full HD resolution (1, 920 x 1,080 445 PPI) protected by a sheet of glass Gorilla Glass 4, and the whole thing is powered by a battery 3,100 mAh, rechargeable also via wireless with Qi technology. The design is not is particularly inspired, but with a thickness of 9.7 mm and a weight of 141 g the Saygus V2 is resistant to the introduction of liquid (IPX7).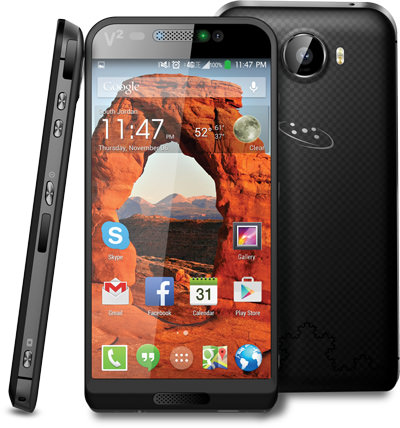 Very interesting choices on software made by Saygus V2 comes with root privileges unlocked and supports multi-boot through the ability to start the device by either microSD installed. Still unknown the price: the company writes on the statement that will be on par with other solutions from 5″ on the market, without specifying details. Saygus has declared working to deploy the smartphone through all US operators and the most important in the world.