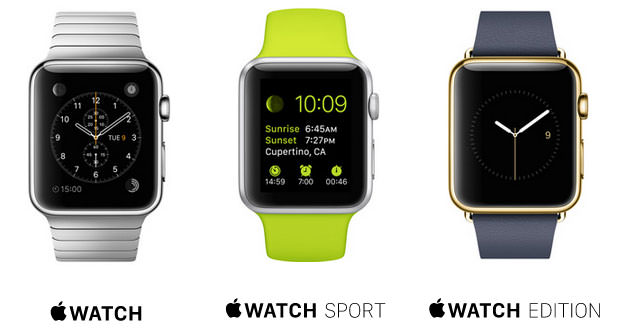 The Apple Watch from $ 349 has a better display than the more expensive models
As it determined by rigorous testing of DisplayMate, coating Ion-X Glass allows for a higher brightness than the finest sapphire templates Watch and Watch Edition.
From a standpoint of mere reproduction of the images on the screen, the display of the Apple Watch Sport $ 349 is better than that of stainless steel and models Watch Edition by $10,000. The reason is simple and applies to the glass used: Ion-X Glass on Sport, and sapphire crystal on the two most precious and expensive. The latter are more resistant to scratches, but at the same time reflect a quantity of light quite higher than the traditional glass.
The results were published following the rigorous examination in a laboratory DisplayMate, which has got to try only the Apple Watch stainless steel. The direct comparison was made with the iPhone 6, which still uses the same watch glass in the Sport version. From here we were compared the reflectance values: sapphire used by Apple Watch has a reflectance of 8.2%, almost double than that measured on the glass Ion-X of iPhone 6 and Watch cheaper.
" Apple has done an excellent job of tying the sapphire OLED display with no air gap, " says the source. " The reflectance on the iPhone 6 with glass cover Ion-X is of only 4.6%, and in this way the Apple Watch with sapphire crystal reflect the 178% of the quantity of light that is reflected in the same environment of iPhone 6 ". The smartphone uses the same glass of Apple Watch Sports, so it is very likely that the reflectance values ​​are similar between the two products.
The problem results in a worst contrast and saturation in outdoor environments in conjunction with strong direct light sources and consequently, there is a worst readability of the image. Engineers DisplayMate went way into the discussion, disclosing some information that Apple has never officially depth. The 42 mm model used in the test has a density of between 322 and 326 ppi pixel with a color depth to 24-bit (just like the iPhone 6).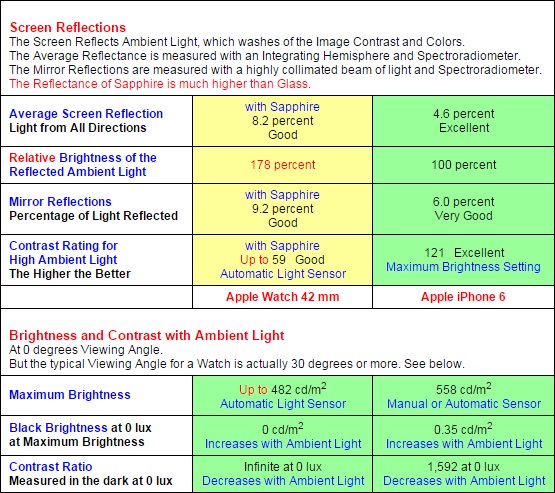 The source also reports an erroneous color calibration with a white point slightly to the cool colors. In the OLED display, it is preferable to reduce the saturation of the blue when possible to obtain a greater energy saving. Blue is the color notoriously less efficient on the panels of this type and by choosing a more neutral calibration, Apple could have gained in energy efficiency, an extremely important point for wearable today.
DisplayMate considered quite positive the landing of Apple in organic LED panels, regarding the coating of sapphire recommends the use of Enhanced Sapphire, durable material such as sapphire used on Apple Watch but with a lower degree of reflectance. The full analysis of DisplayMate can be found on this page.