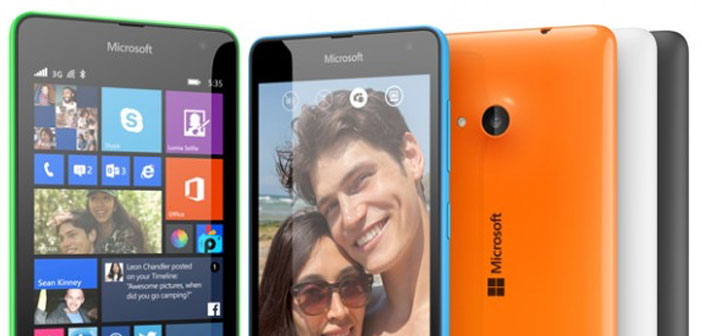 First details on the next smartphone from Microsoft
Appears on the documentation of the FCC Lumia 435, Microsoft's next smartphone for the low end, with 4″ display. It was not long after the launch of Lumia 535, and the first smartphone Microsoft may soon be accompanied by a new model, again low end. After passing the stages of certification in Indonesia, Lumia 435 has appeared in the literature of the FCC, which has revealed some details and features.
The documents show a smartphone with a number of different codes, each of which identifies a variant designed for a given geographical area: RM-1070, RM-1071, RM-1034, RM-1068 and RM-1032. Among these, the last two should have two SIM card slots, a feature not too pleasing to our telephone operators. Documentation of the FCC have also appeared the technical specifications of the device.
Microsoft reveals again very conventional on its low-end, no flashes of particular importance: the processor is once again the Qualcomm Snapdragon dual-core 200 (still capable of moving with ease Windows Phone 8.1), which gives life to a display of 4″ at 800 x 480 resolution. Microsoft Lumia 435 will have a size of 118.1 x 64.7 mm, very similar to the Lumia 530. It remains unknown thickness.
Unlike the Lumia 535, which uses the same 5 megapixel camera module both front and rear, the new Lumia 435 will only have a camera placed along the back of the shell. According to leaked information, the smartphone has not passed the test of FCC, but should not be expected too soon not to cannibalize sales of the Lumia 535 recently.