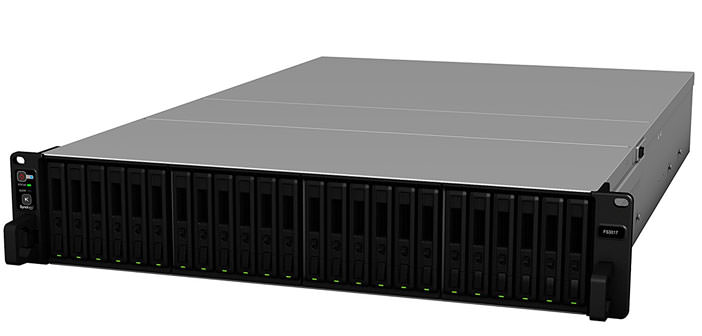 FS3017 is the first NAS All Flash by Synology
Designed for use in the business environment, the Synology NAS FS3017 is the first proposal Taiwanese company that can accommodate only SSD to obtain extremely high speed performance.
After specializing in the production of NAS solutions for both private user as to small and medium business, Synology announces its first FS3017 NAS-based architecture to Flash that is combined with sun SSDs.
It is a storage solution designed for heavier duty, in which wants to combine high capacity to perform reading and writing data that are much higher than those generated by traditional mechanical hard drives.
The structure provides for a 2-rack unit chassis, equipped with 24 drawers for 2.5-inch drive. FS3017 accepts both traditional SSD with SATA interface is SAS SSD models developed for use in the enterprise.
This allows you to balance the storage configuration also opting for SSD models that are cheaper, since the total number of SSDs that can be installed, without precluding the possibility of using traditional hard drive 2 1/2 inches, and if you want to prioritize capacity and configuration cost.

The hardware architecture envisages the presence of two Intel Xeon E5-2620 processors with architecture to 6 cores and frequency of 2.4 GHz, matched to 64 Gbytes of ECC DDR4 in configuration 4-channel memory.
This architecture allows you to expand your onboard memory up to a maximum of 512 Gbytes, using all 16 memory slots available modules with 32 Gbytes of capacity each. Do not miss redundant power supply, a choice that is almost taken for granted considering the target of using this type of product.
The operating system behind this product is the well-known SDM, Synology Dism Manager, which was appreciated in the Taiwanese company's products for up to made available today. From a practical web interface, you can configure the Raid mode chosen to SSDs and manage different features implemented.
Among the implemented features, we point out the support to security utility via Synology Surveillance Station video cameras, supplied in a version with support for 2 cameras in the free license but adaptable to contemporary management up to a maximum of 100 IP cameras.

The connection to the local network connection is via 10 Gbit: there are two such ports, with support for technologies Aggregation and Failover Link. The choice of adopting connectivity 10 Gbit is a step of fact obliged with a hardware configuration of this type, as a Gigabit network would be an obvious bottleneck for a setup with several all flash SSD configured in Raid between them. Do not miss the opportunity to install additional PCI Express cards, using the two slots (16x and 8x) in the system.
Synology claims performance of up with an iSCSI setup, up to 200,000 IOPS with 4K random writes; the data in data reading exceeds 500 IOPS. The use of SSD solutions has led to implement the Raid F1 mode, an approach that involves the use of a RAID configuration in which one of the SSDs of the chain takes charge of the write operation of the most intensive data so as to obtain its progressive attrition of time in a shorter period than the other units.
This will presumably be the first SSD in Raid chain damage, being removed from the chain to be replaced, without the other SSDs have reached a level of wear that they can in turn be damaged and removed from Raid chain.
Thinking of a use in the enterprise, and with Christ-applications, Synology offers the Synology Replacement Service (SRS) for this product: in case of malfunction of your FS3017, you can request a replacement unit, which will be sent from the first working day following that reporting without the prior need to return your support device.
This procedure minimizes the return time to full operation in the presence of the unit to malfunction. More information on Synology FS3017 are available on this address.
Product prices and availability are subject to change. Any price and availablility information displayed on Amazon at the time of purchase will apply to the purchase of any products.