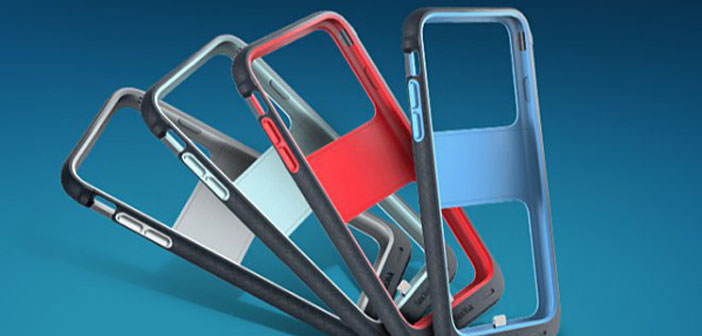 iPhone 6 and 6S, up to 128GB of extra storage with SanDisk iXpand
SanDisk presents the case for the iPhone 6 and iPhone 6S with integrated storage memory (denominations of 32, 64 and 128GB). The iXpand housing interacts with the iPhone supported by companion app and can accommodate an additional battery pack.
SanDisk continues to expand the catalog of iXpand accessories dedicated to iPhone users interested in increasing the amount of memory built-in storage smartphone, using an external accessory.
After iXpand Flash Drive, SanDisk decided to offer the same functionality by integrating the external memory in an iPhone case 6 and iPhone 6S by weight (relatively) content and available in denominations of 32GB, 64GB and 128GB.
The operation is similar to that of iXpand flash drive: SanDisk has developed the iXpand Case App, which is the companion app that lets you access and manage content stored in the storage memory integrated into the housing. Through the app, you can view photos, start playback of videos and music and organize happy.
It also provided an option to set the automatic transfer of all the photos and videos captured from the smartphone in the housing memory. The app only works with iPhone 6 and iPhone 6S and requires iOS 8.2 and above.
The ability to exploit the extra memory, overcoming the well-known limitations of the iOS platform file management, is the most characteristic element of the proposed new SanDisk, but not the only one.
The housing can offer not only greater storage capacity but allows you to extend the battery life, if the user chooses to also buy the battery pack with 1,900 mAh battery that can be placed on the cover. Please note that the battery pack is sold separately.
The main technical features of iXpand SanDisk Case for iPhone 6 and iPhone 6S include:
Materials: outside the plastic, rubber inside.
Weight: 35 grams / Battery pack Optional: 83 grams.
Operating temperature -10° to 70°.
Dimensions: 76.2 mm x 151.3 mm x 15 mm.
Package Contents: housing, micro-USB cable, headphones adapter.
iXpand is distributed in four colors – Grey, Sky, Red and Mint – with prices of $59, $99 and $129 respectively for the versions with memory denominations of 32GB, 64GB and 128GB.
2%
Product prices and availability are subject to change. Any price and availablility information displayed on Amazon at the time of purchase will apply to the purchase of any products.