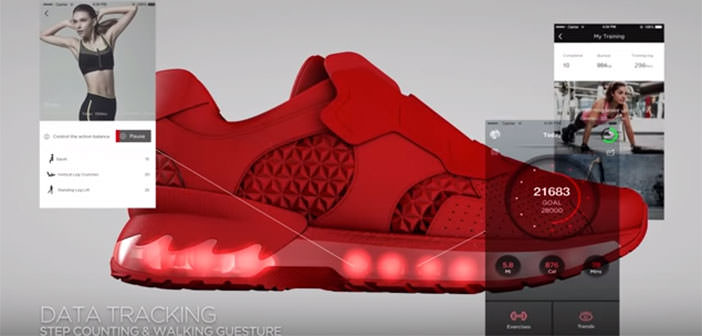 Lenovo: The shoes that become a controller for gaming
Among the novelties presented at Lenovo Tech World 16 not miss the prototype of running shoes with smart functionality. In addition to supporting the tracking of physical activity, the particular footwear can be used as the video game controller.
As part of Lenovo Tech World 16, held yesterday in the day in San Francisco, the company raised the curtain on numerous deserving Mobile products of each term; some, such as the new Moto Z and Moto Z Force, following the latest trend of the smartphone market – think the modular structure that characterizes them – others, like PHAB 2 Pro, introduce innovative features that will soon be available to the consumer audience, others, like the concept of smartphones and tablet folding, trying to trace the evolution of a future mobile device. This category should be counted another product at the event press Lenovo, or special running shoes with smart functionality.
The project was carried out in collaboration with Vibram (a manufacture of footwear and soles for shoes, passed on several occasions in the spotlight for the unmistakable Vibram FiveFingers, shoes five fingers), and it was announced over a year ago, but only in recently, it came to fruition with the creation of the prototype.
A distinctive feature of the shoes that are not likely to go unnoticed – if only for the integrated LED lighting system – are the smart features that distinguish them from traditional running shoes. First, thanks to the integration of chips for wearable Intel Curie, support the functions commonly performed by tracking fitness smartwatch and the smart band (pedometer, calculating calories burned, etc.) – not support the monitoring of the heartbeat.
The data is acquired using the integrated GPS receiver and transmitted to other devices (eg. A smartphone) via the Bluetooth interface. Do not miss the opportunity to recharge the battery wirelessly using a special charging base and customize the sole of the shoe made with the technique of 3D printing.
Among the features that have impressed the most attention, since it is an application unpublished and original, include the possibility of using the shoes as the video game controller. Specifically, in the occasion of the press event, Lenovo showed how smart shoes can be used to control the character of a game runner running on the paired smartphone.
In a very natural way, as to race in the game, just run in the real world. Although it is a concept, it is not difficult to imagine more scenarios of use in the field of play, for example, as an ideal complement to the rhythm games, Dance Revolution style.
Currently lacking more detailed information on the price and availability of the product it represents, first, a concept that, in the future, could help to influence the market for wearable devices, a very large sector, which, as Lenovo, is projected to go beyond the traditional categories of smartwatch and smart band, up to and including clothing and accessories commonly used.