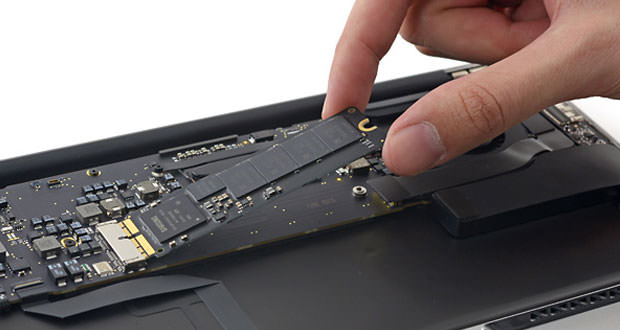 MacBook Air 13-inch: The SSD is twice faster than the model 11-inch
Apple has decided to renew the SSD installed on the MacBook Air, but only on the model 13″. The entry-level variant retains the same technology as the previous model, with obvious differences in terms of performance. Last Monday Apple announced the new update of its portable systems family MacBook Air. In addition to the introduction of Intel chipset family Broadwell GPU with Intel Graphics 6000, Apple has decided to renew the product family with a new unit of PCIe flash storage, according to figures released two times faster than previous generations ultrabook of Cupertino.
Although the new processors have been introduced on both variants of 11″ and 13″, the new PCIe SSD was built only on the version with diagonal. And the differences in performance between the two models in terms of transfer rate Data are extremely obvious, with the variant 13″ that almost double the results of the little brother. This was revealed was iFixit, among the first to perform a test and perform the traditional teardown.
The tests were conducted by running the Disk Speed ​​Test of Black Magic, where MacBook Air 11″ is recorded speed of 315 MB / s write data and 668 MB/s read. Results quite high in absolute terms, but that pales in comparison the highest model in the range, which registered respectively 629.9 and 1285.4 MB / s write and read data, values ​​approaching quite twice announced Monday by Apple during the presentation.

The " magic " derives naturally integrated hardware: flash units of the new model 13 " using memory modules and controllers Samsung, while the version for 11 " modules adopts slower memory products from SanDisk and managed by a Marvell controller. In the case of the pattern 13″, according to iFixit, it is an " update " definitely succulent than the storage unit Samsung flash used in the previous generation.
Negative instead the report in terms of repairability. Out of warranty, it will be very tricky, as indeed in the previous versions, the management of the integrated components of the MacBook Air. iFixit has delivered a vote of 4/10 due to some reasons: to gain access to the components you need to use a screwdriver pentalobo while, despite the major components are easy to access, the RAM is soldered to the motherboard.
RAM and storage units also have a proprietary design, making the ability to upgrade its impossible. You can find more information on the new models of the MacBook Air and MacBook Pro on this page.