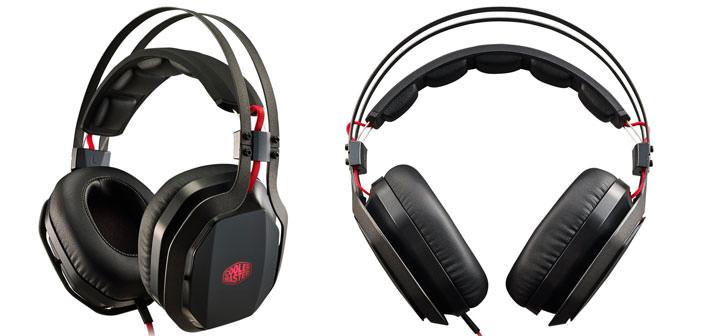 MasterPulse Pro, the new RGB headphones from Cooler Master with virtual 7.1 channel surround
The MasterPulse Pro Cooler Master RGB headphones are characterized by the virtual 7.1 channel surround and Bass FX Technology.
Cooler Master announces the availability in Italy of new MasterPulse Pro headphones characterized by virtual surround 7.1-channel, RGB lighting of the pavilions and the Bass FX Technology. It is the variation 7.1 of the basic MasterPulse.
The MasterPulse Pro headphones have sound card on-board that provides 7.1 channel surround with a 44mm driver can ensure superior sound quality. These headphones allow users to quickly manage the bass through a simple hardware solution called Bass FX.
By removing the outer shells of the headphones active Bass FX and users will be able to listen more distinguished lower frequency sounds so; while with Bass FX disabled, or with the bodies inserted, users will get well balanced listening experience and crystal clear sound.
MasterPulse Pro provides 3 + 1 EQ profiles that can be combined with the FX Bass function: Music, Movies, Games, and " Equalizer Off " .
The MasterPulse Pro are characterized by a lightweight aluminum frame, to the flexible headband and five individual bearings that follow the entire contour of the head; while additional removable cushioned ear pads provide an additional level of comfort and block unwanted outside noise.
This audio solution Cooler Master flagship also provides an anti tangle cord, an invisible microphone and an in-line remote control box located in a convenient location.
MasterPulse Pro
MasterPulse
Weight
380g
365g
Cable
2 meters
1.5 meters
Connection
Gold-plated USB
Digital
Gold plated 3.5mm
4-pole Analog 

Lighting
RGB LED
–
Channels
Virtual Surround 7.1
Stereo 2 Channels
Driver
44mm
44mm
Mic Mute
Yes
Yes
Parametric EQ
Yes
No
Supported platforms
PC
Notebook
Console (PS4)
Mobile
PC
Notebook
Frequency response
20Hz-20KHz
20Hz-20KHz
Impedance
50Ω (f = 1kHz)
50Ω (f = 1kHz)
Sensitivity (@ 100Hz) Bass FX off
107 dB ± 3 dB / 1mW
107 dB ± 3 dB / 1mW
Sensitivity (@ 100Hz) Bass FX on
118 dB ± 3 dB / 1mW
118 dB ± 3 dB / 1mW
Microphone type
OMNI MIC hidden
OMNI MIC hidden
Frequency response of the microphone
100Hz-10KHz
100Hz-10KHz
Sensitivity (@ 100Hz)
-34 DB ± 3 dB
-34 DB ± 3 dB
Signal / Noise ratio
60 dB or more
60 dB or more
The MasterPulse Pro headphones will be available from November at the official network of distributors, resellers and online shops.
Product prices and availability are subject to change. Any price and availablility information displayed on Amazon at the time of purchase will apply to the purchase of any products.