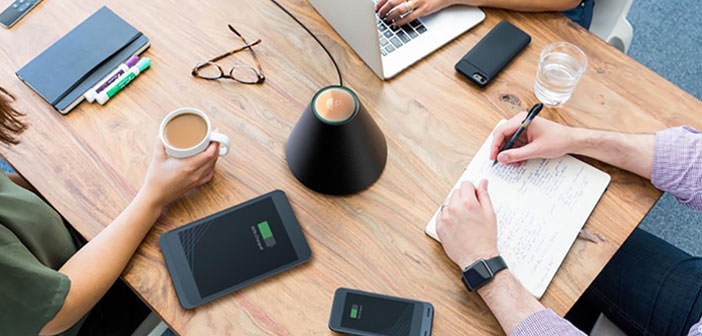 Pi Charger, multi-device wireless charging even remotely
Pi is an American start-up that aims to reduce the limits of wireless charging, allowing devices to be recharged even at a short distance.
For some years now, the mobile market has embraced wireless charging technologies with several well-established standards. Among these, the standard Qi, which Apple also used to introduce wireless charging support on the new iPhone 8, iPhone 8 Plus and iPhone X. In reality, it was a small disappointment, given that several rumors pointed to the presence of a wireless charging technology capable of charging the device from a distance.
But is it really possible to do it? According to a California-based start-up, Pi, the answer to this question is yes. Pi Charger is a tipless conical table device that combines the induction technology of Qi with a proprietary beam-forming algorithm that allows you to recharge even more devices if placed at a distance of up to 30 centimeters. In the past, other companies suggested remote wireless charging, such as Energous WattUp.
The Pi Charger is a less effective solution, but also less invasive and more practical. Certainly a step in having compared to current pads that require that smartphones are placed on them to be recharged. The technology was also shown live at the Disrupt event of TechCrunch, in which four devices were positioned about 30 cm from the Pi Charger, thus beginning the recharge process thanks to the wise exploitation of magnetic fields.
Devices can be placed within a range of about 30 centimeters from the wireless charger, but charging will be faster as they are approached: " Magnetic fields are the best way to send energy to smartphones, tablets and others mobile electronic devices, " said Lixin Shi, CTO and co-founder of Pi. " The hardest part was figuring out how to make the magnetic charge more flexible by extending the useful charging range ".
The team is still thinking of a fair price to the public for the charger, which could be less than $ 200 with availability expected as early as 2018. Apple could incorporate similar technology with upcoming models, there are several proofs that choice from the Cupertino company it will be developed in collaboration with Energous. The wireless charging is therefore facing a new evolutionary step, with the first recognizable fruits starting next year.