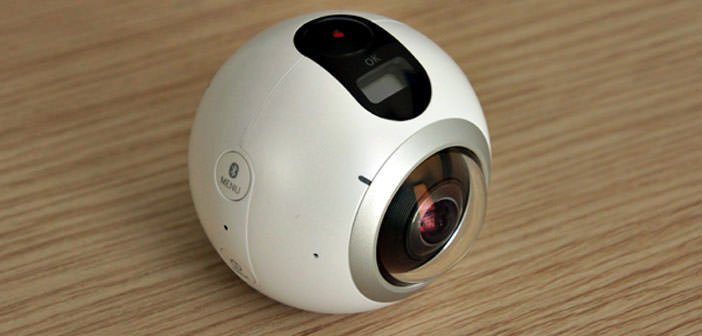 Samsung Gear 360 Camera: And selfies become roundie
Samsung officially introduces the new Samsung Gear 360, camera other with dual lens and capable of taking photos and capturing video at 360 degrees, ideal for creating content to share in the form of virtual reality.
Samsung Gear 360 is inserted as a missing piece of the ecosystem represented by Samsung Gear VR and Samsung Galaxy S7, offering the user the opportunity not only to watch and enjoy immersive content or participate in virtual reality experiences, but also to make himself the creator and protagonist of a 360-degree experience.
In this way, the camera not only takes up a subject, but all participants in a given time: it is a new opportunity that will allow you to change the way it captures the audience and share emotions. And through Gear 360 Samsung tries to instill a new craze in the public, prompting him to replace the loved and hated " selfie ", now inflated, with a more modern, innovative and attractive " roundie ".
Of spherical and encumbrance appearance of slightly less than that of a tennis ball, Samsung Gear 360 is composed of two opposing objectives, both characterized by a viewing angle of 180° on the horizontal and vertical planes.
Inside there are two 15-megapixel sensors, which together allow you to capture video at a maximum resolution of 3,840 x 1,920 pixels at 30 frames per second (also available resolutions of 2,880×1,440, 2,560×1,280 and 1,920×960), and photos up to a resolution of 25.9 megapixels.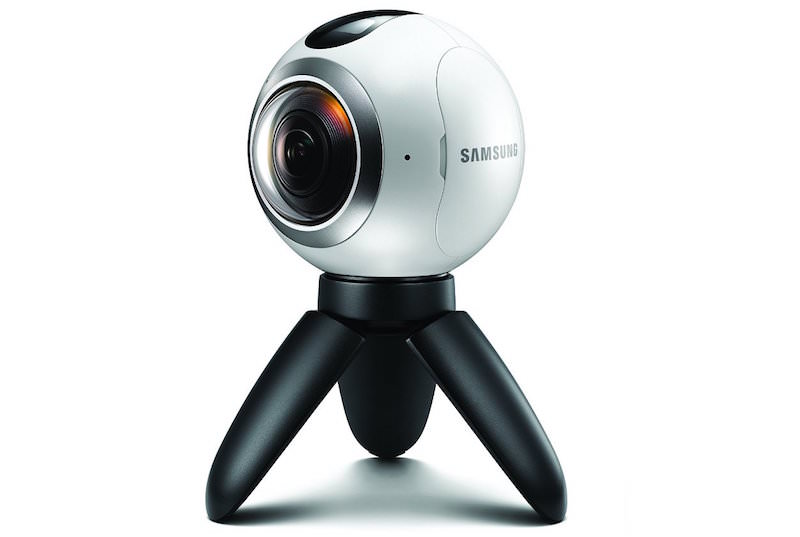 Provided with a small handle that can, if necessary, be transformed into a tripod (and which can be removed, to enable Gear 360 to be placed on a stand provided with any universal screw), Samsung Gear 360 is designed to also serve as action cam: although not used in particularly extreme conditions, the camera is certified IP53 for resistance to splashes and dust.
Samsung has also announced that as of September there is the marketing of a special completely waterproof case that will allow Gear 360 can be used even while scuba diving.
On the front of the Gear 360 has Bluetooth 4.1 connectivity available, WiFi (along with WiFi Direct mode), NFC and USB 2.0, while storing recorded content takes place on microSD memory. The contents achievable with Samsung Gear 360 – video, photographs, time-lapse, VideoLoop – can be viewed on smartphones and PCs with compatible software, and of course find their optimum use through virtual reality viewers, as Gear VR.
As regards management and control operations of Gear 360, Samsung offers the Samsung app Gear 360 Manager that lets you control the camera remotely, adjust shooting settings and compose your movies and photos to share on social.
The major limitation to an understandable but not quite acceptable marketing strategy, is the decision to make Samsung Gear Manager 360 compatible only phones with Samsung S6, S6 edge, S6 edge+, Note5, S7 and S7 edge.
Who does not have one of these smartphones can still use Samsung Gear 360 via the buttons on the device and manage and work the contents at a later time via the software Gear 360 ActionDirector for PC.
Samsung Gear 360, which will try in detail over the next few days, is already available on the market at the price of $349.99
76%
Product prices and availability are subject to change. Any price and availablility information displayed on Amazon at the time of purchase will apply to the purchase of any products.