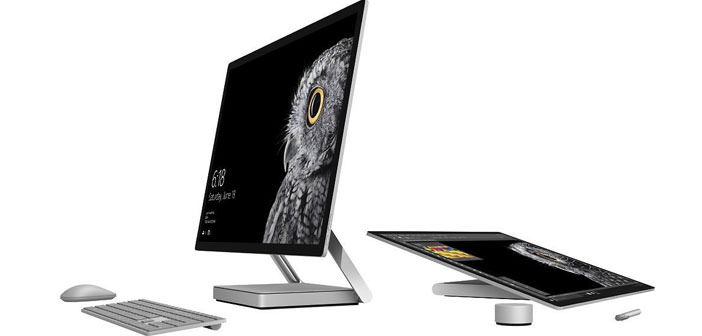 Surface Studio: Microsoft reinvents the all-in-one and challenge the iMac
Surface Studio is an innovative all-in-one system characterized by excellent technical specifications and can be tilted on the desk to be used as a work surface.
Microsoft has announced a new computer all-in-one launching a direct challenge to Apple iMac. As we already knew through some rumors, his name is Surface Studio, and features some very interesting details. The new computer uses a 28-inch display with aspect-ratio 3: 2, as opposed to 16: 9 and 16:10 most widespread on the market, and has a resolution out of standard, superior even to the Ultra HD 4K. Instead of the 8.3 million pixels of the latter, Surface Studio it boasts 13.5 million with a density of 192PPI.
It is a computer aimed at content creators and, to the delight of photographers and filmmakers, you can change the color space between DCI-P3 and sRGB with the press of a single button on the Action Center.
Those who uses the Microsoft Office applications can take advantage of a mode of full-scale display, where 1 cm displayed on the screen corresponds to 1 cm of the actual document. As for each all-in-one, the components are integrated, although not in the body of the display that remains thin at all points, both in the ends than at the center.
In terms of technical specifications, Microsoft has crammed in his Surface Studio an Intel Core i7 processor, supported by 32GB DDR4 RAM and an NVIDIA GeForce GTX 980M. Side storage instead find a hybrid hard-disk 2TB, while two stereo speakers are built into the base of the display.
Noteworthy is also the availability of ports: there are four USB 3.0 ports, a Mini DisplayPort, an Ethernet port and a slot for SD memory cards. It lacks a Thunderbolt port, without which could be heavy for professionals.
Surface Studio is an all-in-one traditional, mostly because Microsoft designed it to be used not only with mouse and keyboard. The base lets you position the monitor almost horizontal to the desk, so as to operate the touchscreen display as if it were a real job floor and right. The feature may be due to the stand of Surface Pro, which allows various inclinations, but in this case, we face a work space with a 28-inch diagonal and 13.5 million pixels to interact.
Surface Studio comes with a tool called Surface Dial, which allows you to make " radial " variations offering a haptic feedback to the user to more accurately perceive the interaction. Supporting the accessory will be played at its edge a radial menu with which to make the changes. Not missing a camera compatible with Windows Hello, an array of microphones to interact with Cortana (and others of course), and compatibility with a capacitive stylus. All for the benefit of professionals, consumers, content creators.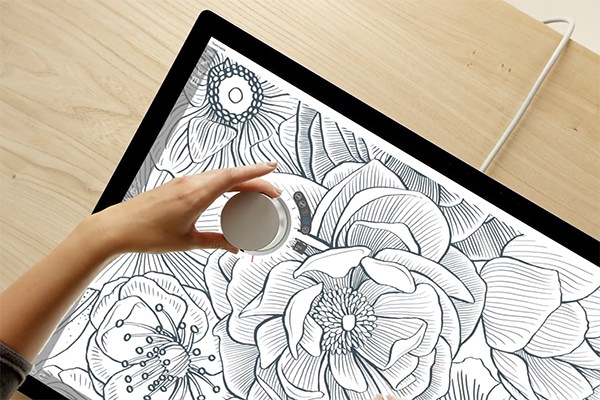 Microsoft Surface Studio is available to pre-order in the US starting today, October 26, while users will be able to try them live in the Microsoft Store. The availability will be limited in the first periods of the launch, with the first deliveries expected before the next Christmas season. The price? Absolutely not for everyone: it starts from $2,999.
The following are the available configurations:
Intel Core i5, 1TB SSD, 8GB RAM, GTX 956m 2GB GPU – $2,999
Intel Core i7, 1TB SSD, 16GB RAM,GTX 956m 2GB GPU – $3,499
Intel Core i7, 2TB SSD, 32GB RAM, GTX 980M 4GB GPU – $4,199
Microsoft Surface Studio (Intel Core i5, 8GB RAM, 1TB)
Includes Surface Pen, Surface Keyboard, Surface Mouse and a Zero Gravity Hinge that...
Enjoy a 28-inch adjustable PixelSense Display with touchscreen and 13.5 million...
With Intel Core processors accelerated by a discrete NVIDIA GeForce dGPU, Surface...
Product prices and availability are subject to change. Any price and availablility information displayed on Amazon at the time of purchase will apply to the purchase of any products.