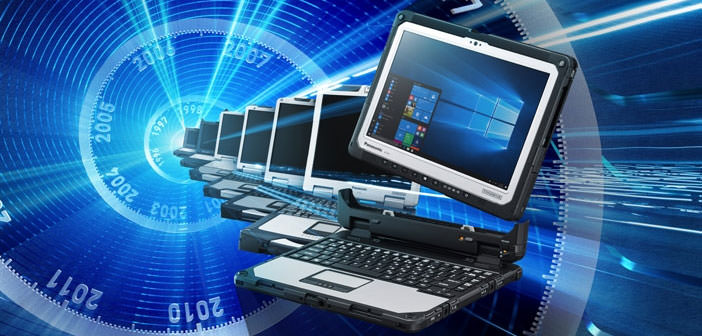 Two models 2-in-1 semi and fully rugged Panasonic
The beauty of the design is not one of their strengths, but this is more than offset by robust: we speak of two new 2-in-1 proposed by Panasonic ToughBook and ToughPad for families.
Even in the so-called rugged systems, able to operate correctly even in the presence of adverse environmental conditions and able to withstand drops and various kinds of impacts, come forward proposals belonging to the category of 2-in-1, and then be able to be used as an alternative as a tablet or as a traditional notebook PC.
Panasonic is a leader in this particular sector of the market with its range of Toughbook products and ToughPad. The company recently celebrated 20 years of activity in the development of this type of product, announcing two new models that fall in its own right among the proposed 2-in-1 and which are characterized by different levels of protection.
ToughBook CF-33 is the most resistant model, which belongs to the category of fully rugged. It is a notebook with a 12-inch diagonal display for which Panasonic has opted for a ratio of 3: 2 between the two sides, with QHD resolution of 2,160 x 1,440 pixels and brightness that you can push up to 1,200 candles for square meter so as to ensure high readability even in strong ambient light.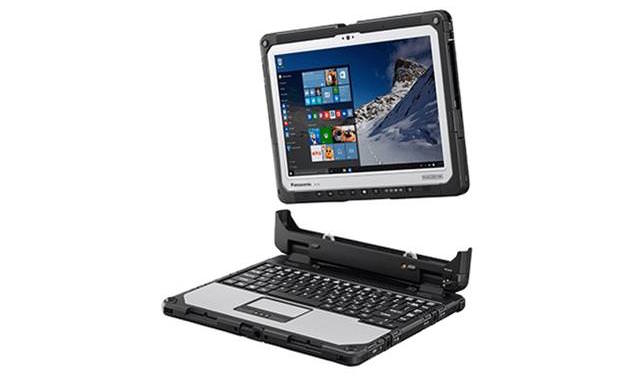 Panasonic has opted for a configuration with Intel Core i5-7300U processor with Intel vPro technology, combined with 8 Gbytes of system memory, 256 Gbytes of storage on SSD and Windows operating system 10. In about one-month Panasonic will give out a second version of this system equipped with Intel Core i5 processor paired with sixth-generation operating system Windows 7. This offer is designed for those companies that have not yet started the process of internal migration to Windows 10 and use a package of certified applications for Windows 7; with such a configuration will be possible to upgrade the system for free to Windows 10 later.
ToughBook CF-33, as reported, is a 2-in-1 type fully rugged and for this reason implements technical solutions based on the maximum possible strength. An example comes from the fastening mechanism between the base with keyboard and display, fitted with snap in two positions and able to withstand any type of mechanical abuse. Among the various tests to which this product is subjected highlight 26 different drop tests on various sides and angles, from a height of 140 cm.
The peculiarity of the proposals fully rugged goes beyond the basic technical characteristics: these products can be customized by integrating various types of custom accessories depending on the specific needs of the customer. Rather than a single system we have in this case think of massive fleets like those of a company operating in a specific industry sector. Among the various options, disposition mention the ability to integrate.
Barcode reader
Serial port
Additional USB port
Smart card reader
Finger-scan
Second additional battery
Dedicated GPS
GPS integrated
ToughBook CF-33 can be purchased either in one tablet, version is equipped in the basic bundled with the keyboard; the latter component is optionally available at a later time as an accessory.
The second novelty presented by Panasonic is the model Toughpad FZ-Q2, a model that is defined as semi-rugged and that for this reason offers robustness inferior to those of fully rugged solutions but which in terms of resistance to impacts and falls spaced to an extent very marked consumer and commercial products with traditional design. In this case, we do not speak of a system that can be initially purchased for the single tablet component, but a 2-in-1 sold in a comprehensive manner.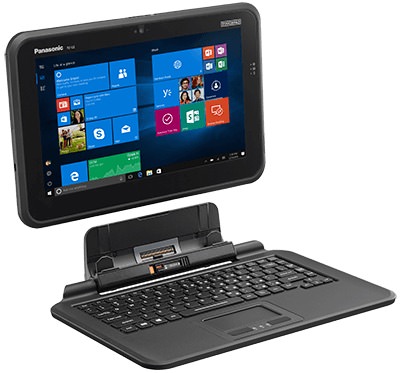 The technical characteristics see a 12.5 inch display with full HD resolution and 16: 9 ratio, Intel Core m5-6Y57 vPro processor coupled to 4 Gbytes of RAM and an SSD 128 GB of capacity. The combined operating system can be that Windows 10 Pro or Windows 7 Professional, again depending on the specific customer requirements.
From a construction point of view Toughpad FZ-Q2 boasts more than valuable robustness, confirmed by the height of 76 cm robustness test with European standard. Behind the screen is present a small kickstand, useful when you want to use the 2-in-1 sitting at the desk and avoid that, interacting with the touch screen, this tends to tilt toward the opening of the cradle.
Panasonic Toughpad FZ-Q2 declares for a total weight of 1.93 Kg, with the part tablet which accounts for about 1.09 Kg.