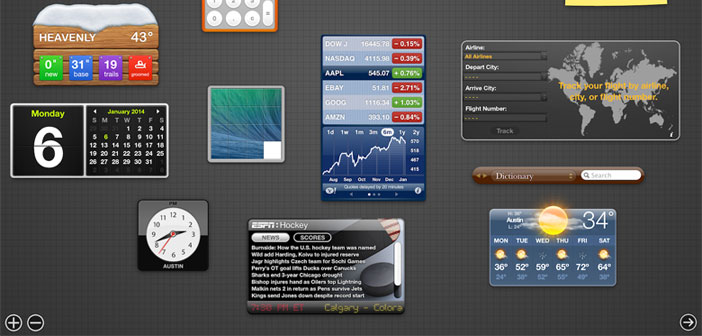 How to Add Widgets weather to Dashboard in Mac OS X
As it is known to those who own a Mac, Apple from Release 10.6 (otherwise known as " Snow Leopard " ) introduced an interesting feature " Dashboard " call, just like a real " command bridge ", collects all widgets that we want to enter, and that allow us to acquire information in a very simple and immediate. These widgets, for the uninitiated, are just mini-applications available to us through the Dashboard of our Mac OS X running Snow Leopard or later system.
In this guide, we will see how to add one of these applications that allows you to view the weather forecast for the next few days, but the same process can be implemented for all other widgets that – remember – can provide information such as saved appointments calendar, listings of our favorite stocks in real time and so on. Let's start then!
Our operating system is provided with the pre-installed widgets. Indeed, we can immediately find applications like calculator, calendar or temperature with the forecasts of the time of a particular location. However, you immediately feel the need to add other interesting widgets.
To see which widgets are currently available on our operating system, we can proceed in two different ways. The quickest and easiest method is to crush the F4 of our keyboard, on which there should be a small drawing representing a kind of odometer (this method is no longer supported starting with Mac computers preloaded with OS X 10.7 Lion because " Dashboard " function on the F4 key has been replaced by " Launchpad " ). The other way is to look for the dashboard via Spotlight. I remind you that to use Spotlight you have to press the combination of CMD + Spacebar keys.
Once inside you will notice in the dashboard in the lower left a " plus " symbol placed inside a circle. We click the icon and it will open a window with a list of all the widgets that are currently installed on our computer. Now we go on " Manage Widgets ". And open at this point, another window where we're going to click " More Widgets " which will bring up a list of all downloadable widgets. We choose the weather widget. We download and settle it where, we prefer in our Dashboard: magically appear the weather forecast!