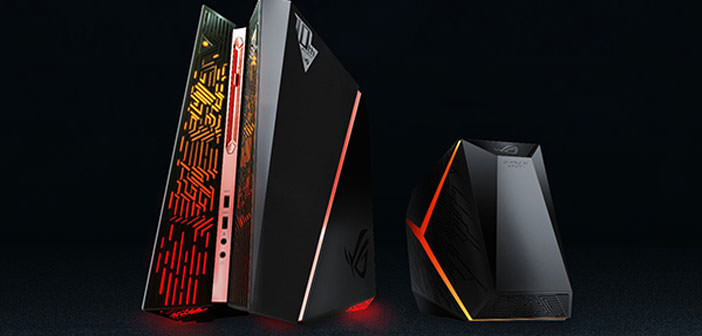 ASUS ROG G31 Edition 10: Compact PC with two GeForce GTX 1080 inside
Featuring a more than recognizable design, the new ASUS ROG G31 Edition 10 amazes mainly for the hardware features: in a 20-liter chassis there are two GeForce GTX 1080.
" I'm incredibly proud of the results achieved by ROG in the first 10 years of life, " with this sentence Jonney Shih, President of ASUS, has announced the new line-up of family-oriented gamers formed by new laptops, motherboards, monitors and headphones.
Among one of the most exciting products – and perhaps unattainable – is ASUS ROG G31 Edition 10, from a form factor desktop computer small, but with specific hardware to record.
Within a chassis only 20 liters, ASUS has managed to integrate an Intel Core i7 CPU of the latest generation and two video cards based on GPU NVIDIA GeForce GTX 1080. Unfortunately at the time of writing in short supply any information about the technical specifications, but the two data that we have reported are sufficient to confirm the extremely high performance and sufficient to achieve 60fps fateful on most titles also to 4K resolution.
The only question remains on the heat dissipation capacity of the solution. To ensure an adequate temperature for the integrated components ASUS has introduced an exclusive dissipation system based on vapor-chamber 3D with two hidden channels designed for channeling the flow of air. The system should ensure that the technical ASUS high performance combined with controlled temperatures and a noise level of contained operation.
Objective To be able to realize an extremely compact computer, but at the same time at the top as regards the dimensions, ASUS has opted for an external dedicated section for the power supply. One trick is essential to save space on your desk. ASUS ROG G31 Edition 10 features a special design and certainly very recognizable, with futuristic details and an LED triumph that highlights the essence of gaming vehemently.
The desktop computer also has a dedicated section for audio, with DAC ESS and headphone jack amplified. Currently we do not even have details on price and availability, but it is clear that ASUS ROG G31 Edition 10 is an extreme product, and likely will be extreme the list prices in the various markets where it will be marketed.