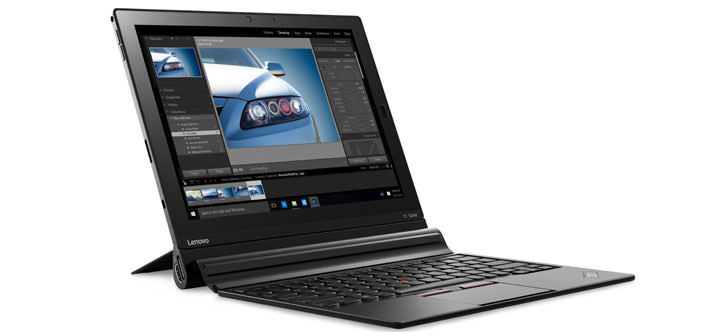 Lenovo ThinkPad X1 Tablet, two worlds in one for the professional
Lenovo ThinkPad X1 Tablet is a very special product. Extremely simplistic to call it tablet, because the high level components are also offers to use very heavy, it is also equipped with a removable keyboard identical to that of traditional laptops.
The overall dimensions are very reduced as well as the weight (795 grams, 1.1 kg with the keyboard), while the potential is expandable through interesting additional modules.
Today there are many options for professional always on the move, in search of their ideal work machine. There are some features highly desired in these contexts, such as weight and small size, ruggedness, long range, performance and ergonomics few compromises that allows them to work as if it were in front of the desk. Not only that many professionals are also seeking the convenience of a tablet, maybe with a digital pen, but if necessary can be used as a PC.
Lenovo ThinkPad X1 Tablet meets all these requirements simultaneously, presenting itself as an ideal working machine for many professionals on the move. All the components is in tablet form behind the screen, and is of high rank: the processors used are up to Intel Core m7 with vPro technology, from 8 to 16GB RAM LPDDR3, only based on SSD storage solution with capacities up to 1TB and passive cooling system, for use in total silence. All this in a chassis made of magnesium alloy, very durable but also lightweight at the same time.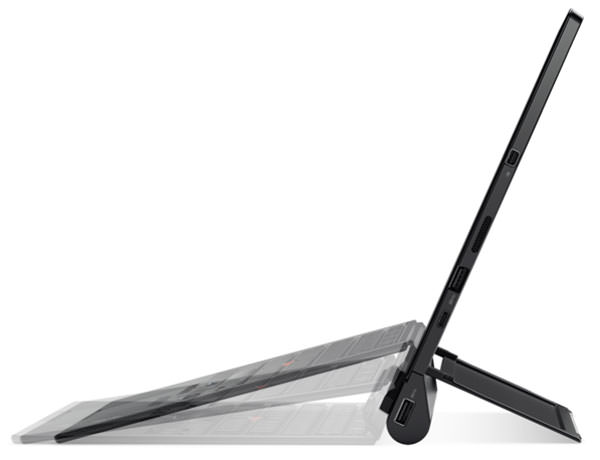 The display is an IPS multi-touch 12-inch diagonal, Full HD 2K resolution (2,160 x 1,440 pixels) and 3: 2 ratio, with great brightness and visibility from any angle. A strength is the keyboard that came with backlight, identical in shape of the keys and touch to those of traditional laptops.
How typical of the ThinkPad series does not miss the TrackPoint and trackpad without buttons, elements that loyal clientele appreciates the brand for over 20 years. Speaking of the keyboard, to be reported is the ability to connect it to the main module by choosing three different inclinations, in order to find the most comfortable.
The Stylus Pen with Wacom technology, in conjunction with WriteIt software, constitutes an added value for the Lenovo ThinkPad X1 Tablet: in addition to the keyboard and touch screen so you can enter freeform notes even within documents, pictures, and more, with a real-time spelling check.
The dimensions are very small, as well as the weight: the tablet module measures 291 x 209.5 x 8.45 mm, with a weight of only 795 grams, while the keyboard 290 x 228 x 52 mm to about 300 grams, stopping the scales in only 1.1 kg if you add up both modules.
The audience in general, but especially the professional, cannot fail to appreciate the broad allocation of ports and wireless communication systems. Specification compliant WiGig, find space in the tablet also has a USB 3.0 port, a USB Type-C (for the power), Mini DisplayPort, Wireless LAN with specific 2 x 2 MIMO 802.11 a/c, slot for nano SIM, microSD and audio connectors.
There is the compatibility with the LTE standard, thanks to the adoption of modules Sierra Wireless EM7455, Qualcomm, Snapdragon X7 LTE-A and LTE Huawei ME906s.
The operating system is of course Microsoft Windows 10 64-bit, which is available in the Home or Pro. Lenovo confirms its attention to the key factor of security, enabling applications for Intel vPro and adopting the recognition Fingerprint sensor and TPM technologies.
And there's more: the potential of Lenovo ThinkPad X1 Tablet can be further expanded with additional modules, also connected simultaneously with the keyboard.
Additional modules, sold separately, are trump cards that competition does not offer. Productivity Module integrates not only an additional battery that can extend the overall range of up to 15 hours but also a USB 3.0 port and an HDMI.
Presenter Module is instead thought for presentations, and includes not only the HDMI port but a pico projector, able to reproduce on a sheet or on a wall the content of the display, with a diagonal of 60 inches from a distance of about 2 meters. Also coming 3D Imaging Module: There is an integrated Intel Real-Sense Room with 3D scanning capabilities and more.
14%
Lenovo ThinkPad X1 Yoga 20FQ000QUS 14" Flip Design Touchscreen Ultrabook (Core i7-6500U, 8GB RAM, 512GB SSD, Windows 10 Pro)
Intel i7-6500U (2C, 2.5 / 3.1GHz, 4MB, 1866MHz); 8GB Memory , 512GB SSD
14" WQHD (2560x1440) IPS w/ Intel HD Graphics 520
Bluetooth 4.1, Thinkpad pen pro, fingerprint reader, 4-cell (52Wh), 3xUSB3.0, Mini...
Product prices and availability are subject to change. Any price and availablility information displayed on Amazon at the time of purchase will apply to the purchase of any products.